May 20, 2013
What
Your senses are sure to be delighted as we offer a fun-filled evening for over 500 guests featuring a fabulous selection of international wines to delight every palate paired with heavy hors d'oeuvres and an array of tantalizing fruits, cheeses, and desserts. Groove to the sounds of live smooth jazz inside the grand banquet room, and enjoy acigar and beer or port as you party to the rhythms of a steel drum under the stars on the outer deck. End your fantastic evening by taking home an awesome raffle prize. All proceeds benefit Boys & Girls Clubs of Northeast Florida, helping provide a safe, positive place for 3,600 youth in Duval, Nassau, & St. Johns counties.
Click here for more info/to purchase tickets.
Where
Adam Herbert University Center at UNF
When
Friday June 14th 6-10pm
Events
|
Leave a comment
//
---
May 19, 2013
Have you ever had a bottle of wine "Taken?"
Introducing the Liam Neeson "Taken" wine bottle warning device!
Simply print and cutout the template below, and hang it on any bottle you don't want your friends, family, roommates, house guests or friendly Eastern-European terrorists to touch. It's sure to send the right message!
Funny
| Tagged
Lian Neeson
,
meme
,
Taken
,
Wine Bottle Warning Device
,
Wine meme
|
Leave a comment
//
---
May 16, 2013
Grapes
34% Chardonnay, 33% Renski Riesling, 33% Pinot Gris
Facts
Ahhh yes! There's nothing better than getting home from a hard day's graft ( after staring at a computer for most of the day) than to kick off my shoes, and reaching for a bottle of Kupljen "Spirit of Svetinje" from the Jeruzalemsko-Svetinjske hills of north-eastern Slovenia…
Ok, so that's a lie. Firstly, I mainly work out of my house, so my shoes are pretty-much off all day. Secondly, this happens to be the first bottle of Slovenian wine which has ever entered the Chislett household; and indeed, the first which has ever graced my lips.
The first thing that caught my eye, was that this bottle's an '03. For a white wine, that's usually not a good sign. Usually the stuff you find in the bargain bin at the local liquor store.
So I jump onto the Kupljen website, half-expecting to be told the current vintage is in-fact 2012 (or something similar). Nope! The current vintage is in-fact 2003….I sure-as-hell hope that the nice people at the Kupljen winery know what they're doing here…
Luckily for me (and you), the nice people at the Kupljen winery have actually been making wine – in one form or another – since 1836….so they've had plenty of practice. Little-did-I-know, the wines from this particular region of Slovenia are famed for their aging potential.
The Kupljen winery is a family winegrowing estate, with winemaker Jože Kupljen (no, I can't pronounce it either) launching the Vino Kupljen wine brand in 1976.
Renski Riesling: It's kind-of like Riesling, but not….
Oh, you want more information than that!?!?! Well, Renski Riesling tends to be more aromatic than the more common "straight-Riesling" grape, showing lots of acidity, as well as peach, apricot and mineral notes.
Reviews
| Tagged
Chardonnay
,
Kupljen
,
Pinot Gris
,
Renski Riesling
,
Riesling
,
Slovenia
,
Slovenia wine
,
Spirit of Svetinje
|
1 Comment
//
---
May 15, 2013
Wine infographic brought to you by: www.wild-grapes.co.uk
Facts
| Tagged
Infographic
|
Leave a comment
//
---
May 15, 2013
What
Each year volunteers representing the local restaurant community host an event called "The Jacksonville FOODFIGHT" that features 60 of Jacksonville's finest restaurants and beverage wholesalers/distributors who come together in friendly competition to "take a bite out of hunger" by raising funds and awareness for Second Harvest North Florida. More than 1,200 guests are tempted to taste everything they see from the glorious variety of the finest foods and spirits displayed throughout two floors of the fabulous Touchdown Club East at EverBank Field. Live musical entertainment and two exciting raffles round out the evening.
General admission tickets are $60 if purchased in advance (if ordered by phone before 4 p.m. on the day of the event) and $70 if purchased at the door.
All tickets purchased will be left at the Will Call table in the lobby of the Touchdown Club East and available on the night of the event, beginning at 5 p.m.
Where
Touchdown Club East at EverBank Field
http://www.jacksonvillefoodfight.org
When
Thursday June 6th 2013
Events
| Tagged
Jacksonville Food Fight
|
Leave a comment
//
---
May 9, 2013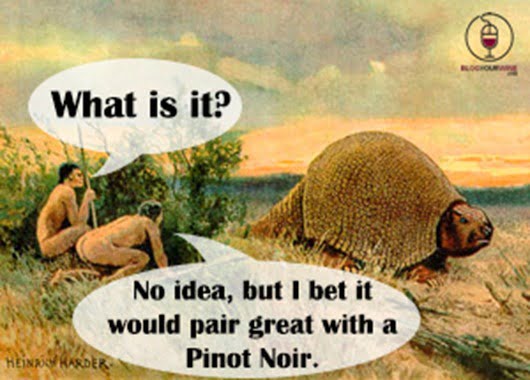 Funny
,
Pairings
| Tagged
Pinot Noir
,
Pinot Noir Food Pairing
|
Leave a comment
//
---
May 7, 2013
Events
| Tagged
III Forks
,
III Forks Jacksonville
|
Leave a comment
//
---
April 30, 2013
Even though Bordeaux remains the Old World wine of choice for many with new money to burn, their tastes are no-doubt changing.
When people think of Bordeaux, sweet wine is more than likely the LAST thing on their mind!
Sauternes and Barsac, in the Bordeaux region of France, make a very different kind of wine than people have come to know Bordeaux for; namely, sweet and white. But growers in the region have slowly started to move away from producing sweet whites, after they've seen it fall out of fashion with the general public.
"It's sad because Sauternes has never been better," said Andreas Larsson, a Swede who won the "Best Sommelier in the World" competition in 2007. "But that's the way the world is going. There's no market for sweet wine."
Adding to the woes of Sauternes was a disastrous 2010 vintage, in which some of the top properties, including D'Yquem, decided not to make any sweet wine at all, saying the grapes lacked the necessary concentration.
What is different now is that some chateaus are giving up entirely on sweet wine, and outsiders are moving in, looking to make dry wines in the area.
Olivier Bernard of Domaine de Chevalier, which produces some of the greatest dry red and white wines in Bordeaux, from the Pessac-Léognan appellation, said "Sauternes is one of the greatest white wine terroirs in the world, for sweet or dry wine, but what the market wants now is dry wine."
Click here for the full article from the New York Times.
My Thoughts…
I always have the hardest time selling/tasting people on sweet dessert wines…actually…let me rephrase that: Wines in the "dessert wine" category are no problem to sell, it's more their levels of sweetness within that category.
Not all dessert wines are created equal, and people have a hard time coming to grips with the fact that Moscato and Sauternes are in the same category, since they have very different levels of sweetness.
I guess what bugs me is that I keep reading these articles from numerous "well-respected authors/sources" saying that tastes are changing and people are gradually moving into drier styles of wine. I don't know where they're getting their information, but I couldn't disagree more! The recent Moscato craze should help to – at least partially – backup my theory.

As with most of these "issues of taste" in the wine industry, I put it down to educating the consumer i.e. no-one knows what to do with Sauternes! Do you drink it like table wine? Do you sip it like brandy? Do you pour it over your ice-cream? What do you do with it?!?!
Those, at least, are the problems I personally see from my time spent "in the trenches" (and by '"trenches," I mean running a wine bar…)
I hate to say it, but this story is just another example of French wine producers wailing "Woe, is me!" after they have rested on their laurels, struggled to move with the times and failed to continue to educate wine drinkers on their product.
Wine consumption is at an all time high. There should be no excuse for slow sales of ANY wine category. Problem is, now that Sauternes producers have dug themselves into a hole, digging their way out is going to be quite the struggle. On second thoughts, maybe they can convince a rapper to write a song about it! Hmmmmm….now let me think….what rhymes with Sauternes….???
News
| Tagged
Bordeaux
,
France
,
Sauternes
|
Leave a comment
//
---
April 19, 2013
Grapes
100% Cabernet
Facts
There's Napa and there's Napa. The term "Napa Cabernet" is all too often used to refer to any wine that hails from "The Valley." This rhetoric quite effectively tars all wineries with the same brush: from the behemoth brands, supplying many of the large grocery stores with their generic-tasting wine-flavored alcohol; all the way through to the small estate properties, producing miniscule quantities of truly hand-crafted wines each year.

The problem here is that there's a growing number of smaller wineries who are placing great emphasis on the land (that goes way beyond the marketing hype on the back label of their bottles), and so the differences are becoming more and more apparent with every vintage in Napa.
The Baldacci Family have owned this property since '97. The original plans for the land were to simply turn it into a real estate investment…but where's the fun in that!?!?! Thomas Baldacci – in what was probably an idea devised after numerous glasses of wine – decided instead to turn his attention towards growing grapes and also building somewhat of a lasting heritage for his family, by building what is now the Baldacci Winery.
The Baldacci Family own 37 total acres of vineyard land in the Stags Leap and Carneros AVAs of Napa. Since they're growing their own grapes and making their own wine, they have a much greater control over the juice that's going into the bottle.
The original plan for the Baldacci winery was to use all the properties' grapes for their wine program. Only problem was, they didn't know if they could successfully shift 3,000+ cases a year at a retail level. Therefore, the winery used the years prior to '06 to really hone their individual bottlings, and sold-off their excess grapes. This as opposed to just banging-out large quantities of juice from the get-go, and hoping that someone would buy. Smart move!
Reviews
| Tagged
Baldacci
,
Baldacci Cabernet
,
Cabernet
,
Napa
,
Napa Valley
,
Stags Leap District
|
Leave a comment
//
---
April 19, 2013
Funny
| Tagged
Funny wine meme
,
Wine meme
|
Leave a comment
//
---
← Older posts