← Wine Review of Domaine de la Curniere Vacqueyras
Interview with Jane Ferrari from Yalumba Wines →
Burgers with Peanut-Chipotle Barbecue Sauce Paired with Robert Mondavi Cabernet Reserve 2006
October 4, 2010
Awesome wine, awesome burgers, average pairing.
Let's first get to the wine!

This was the Robert Mondavi Cabernet Reserve 2o06 average retail $135. And just in case you were wondering, no this isn't the average price tag of wines I drink!
I recently enjoyed the Caymus Special Selection 2008, a beautiful Napa Cab at a similar price, but even though it was 3 years younger it was actually was much open and ready to drink.
The Mondavi Cab was very tightly wound, even after decanting. These types of wines are always difficult to judge, because you aren't actually rating them on their current merits, but actually their potential future merits after considerable aging.
The '06 Mondavi is a 80% Cabernet Sauvignon, 12% Merlot, 3% Cabernet Franc, 3% Malbec, 1% Petit Verdot and 1% Syrah blend, and shows bold, extremely concentrated chewy black fruit, chocolate covered cherries, vanilla, spice and the smallest hint of bell pepper. Very smooth, with oak that is well balanced with the fruit, and a 10 minute finish. I truly believe the Robert Mondavi Cabernet Reserve 2005 could do with maybe another 5 years in the bottle, but I would really like to see how it's doing in 10 years +.
So saying all of that, a word to the wise: if you are going to invest the money in this wine, don't even dream about touching this wine without decanting for at least 1 hour+. Seriously.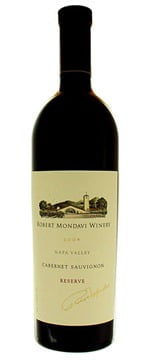 [Small note: The bottle photo on the right is just a stock photo I pulled from the Mondavi website. I consumed and recycled the actual bottle before I could actually get a photo! At least this way you know what the label looks like, even if the vintage is incorrect.]
On to the burgers!
The Burgers with Peanut-Chipotle Barbecue Sauce were almost as amazing as the wine. A fairly simple recipe, the only messy bit was the 13 –ingredient Peanut-Chipotle Barbecue Sauce, which included garlic, Dijon, molasses, ginger, chipotle in adobo and creamy peanut butter to name just a few ingredients. My mouth is watering just thinking about it! I actually still have what remains of the sauce in my fridge, as I'm working out what to do with it after the burgers are now finished! Hmmm…
You have to make this recipe! Unique and delicious and we'll leave it at that!

Now the pairing!
Yeah, not so much…
This was a last minute pairing, just in case you were wondering why I was pairing a $135 bottle of wine with burgers on the grill (I've never been one to stick with conventional pairings).
The advice given by this recipe was for a fruit-driven Californian Cab, but they were a million miles from the mark. The alcohol clashed with the spice in the sauce, and it just didn't prove a pairing that did either component justice. It wasn't bad, just nothing special.
If I were to do it all again, I would go with either an Old World juicy red (for the lower alc.), or switch directions altogether, and go light / medium bodied, spicy white i.e. Alsatian Gewurztraminer or Pinot Gris.
Let me know if you make this recipe and find a better pairing!
I'm going to rate this one as a NEUTRAL PAIRING.
My Food & Wine Pairing Guide is something that everyone can use at home, and it makes each meal a fun interactive way to analyze how a wine matches with a particular recipe.
Bad Match
The interaction of wine and food when tasted together has a negative impact on the senses. This is common when the food item is high in acidity, salt, bitterness, or spiciness.

Refreshment
Many times wine serves simply as a satisfying refreshment to accompany a certain food choice. The refreshment match may be appropriate when the food severely inhibits a good or synergistic wine choice.
Neutral
These pairing situations are average and pleasant, but are missing an element of individuality and thus cannot provide a superior gastronomic experience.
Good Match
 In this situation, you have found a wine that matches the food item's basic components (sweet, sour, bitter, salty) and overall body.
Perfect Match
This essentially means the combined effect of the wine and the food paired together is superior to the sum of the individual parts.
This entry was posted in
Pairings
. Bookmark the
permalink
.
← Wine Review of Domaine de la Curniere Vacqueyras
Interview with Jane Ferrari from Yalumba Wines →