← Win a Bunch of Goodies from Landmark Vineyards and Soiree!
Who Needs Powerade? →
A Few Facts About Syrah / Shiraz…
December 21, 2010
Syrah / Shiraz is a dark black grape with a very thick skin, and depending on the soil and climate the flavors and tones will change greatly, creating distinct wines between their regions of origin.
It's worth noting that the vast majority of the world's plantings of Syrah are located in France, primarily in the Rhone region which extensive DNA testing concluded is where the grape originated.
Syrah and Shiraz are used interchangeably around the world to refer to the same grape, and there really are no hard and fast rules. The grape also goes by a few other synonyms such as Balsamina, Candive, Hignin Noir, Marsanne Noir, Sirac, Syra, and Sereine, although these names are not widely used.
In Australia, Shiraz will typically have big-intense dark fruit flavors with bags of pepper.
In France, Syrah dominates the Rhone where it is often blended with a small amount of Viognier (a white grape) in order to add "aromatic complexity" and mellow the wines out a little. Syrah grown in the Rhone region tends to be big, but often "closed" upon release and therefore needs some time in the bottle before being approached, with potential for over 10 years of aging.
Syrah is a major component in Hermitage, Cornas, and Côte-Rôtie wines in the Northern Rhone region of France. In the Southern Rhône it is blended with Grenache (and a few other grapes) in wines such as Châteauneuf-du-Pape, Gigondas and Côtes du Rhône.
Syrah produced in California can be viewed as the best of both worlds, ranging from highly extracted fruit -forward jammy styles, to more restrained and subtle versions.
While it is often stated that the best Syrah's are produced in cooler climates, numerous Shirazes from Australia have been given critical acclaim from such producers are Clarendon Hills, Mollydooker and Penfolds.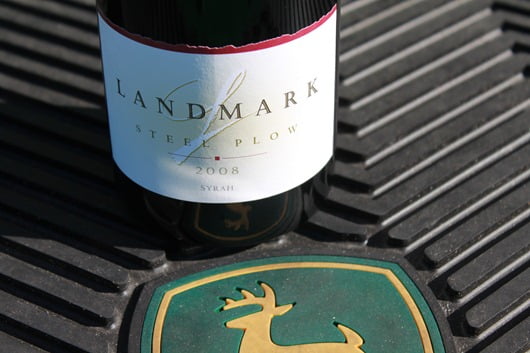 This entry was posted in
Facts
and tagged
Landmark Vineyards
. Bookmark the
permalink
.
← Win a Bunch of Goodies from Landmark Vineyards and Soiree!
Who Needs Powerade? →