← The Mother Vine in North Carolina – 400 years young!
Guide to the Biltmore House in Asheville, North Carolina →
Biltmore Estate North Carolina Chardonnay 2008
January 18, 2011
Grape
99% Chardonnay, 1% Riesling
Facts
Biltmore Estate took almost 7 years to build, but this isn't so shocking when you consider the size of the 175,000 square foot home. To put that in perspective, that's about the size of 88 average size homes!
The Vanderbilt's were worth over $200 million, which is obviously a lot of money today, but think about that amount back in the 1800's!
Biltmore wines are made by the winemaking team of Sharon Fenchak and Bernard Delille. Bernard received his French National Diploma of Winemaking in Dijon, Burgundy. Sharon has gained her experience for working with two different Georgia wineries and holds a Masters in Food Science from UGA.
Chardonnay varies depending on climate, soil and winemaking – but can adapt just about anywhere. This obviously makes it a VERY popular grape to grow.
Chardonnay is the main ingredient of many sparkling wines around the world, including the Champagne region of France.
The juice for the Biltmore Estate North Carolina Chardonnay 2008 is barrel fermented in a combination of French and American oak, and then aged for 6-8 months.
87% of the grapes from this wine come from North Carolina, the other 13% comes from vineyards in Mendocino County in Northern California.
North Carolina is home to more than 90 wineries. The number of wineries has more than quadrupled since 2001.
Not long after Sir Walter Raleigh landed in what would become North Carolina, the grape vine was first introduced and cultivated in the New World. By the start of the 20th Century, North Carolina was the leading wine-producing region in the nation!
In 1835 the first winery in NC was established by Sidney Weller in Brinkleyville in Halifax County.
During a 2007 poll, Biltmore Estate was chosen as the 8th favorite structure in the United States.
Taste
Biltmore Estate North Carolina Chardonnay 2008 shows pineapple, banana,  and butterscotch on the nose. The tropical fruits and butter continue on the palate, with some ripe green apples, a hint of lemony acidity, minerals and a fair amount of toasty oak. Light (for a Chardonnay) and easy drinking, finishes with subtlety.
Pairing
The usual suspects with a Chardonnay of this type: shrimp, white sauce pasta, brie, chicken, lobster and scallops etc etc. Don't be afraid to think outside the box when pairing the Biltmore Chard though. It has a good level of acidity and the alcohol isn't out of control, so it won't overpower pretty-much anything you choose to enjoy it with. Saying that it, is perfectly enjoyable by itself.
Price
$14.99 available from select retailers and Biltmore.com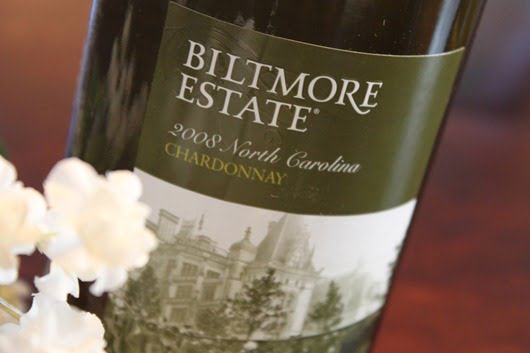 This entry was posted in
Reviews
and tagged
Biltmore
. Bookmark the
permalink
.
← The Mother Vine in North Carolina – 400 years young!
Guide to the Biltmore House in Asheville, North Carolina →