← What is Bottle Shock?
Three Vines Old Vines Field Blend, Contra Costa – California →
Samuel's Gorge Tempranillo from McLaren Vale, Australia.
May 20, 2011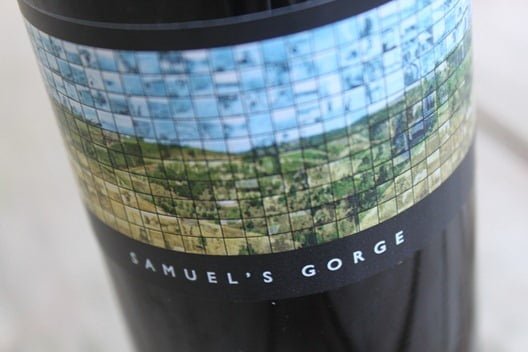 Grape
100% Tempranillo
Most often found in Spain, particularly in the Rioja wine region, the name Tempranillo is thought to be linked to the Spanish word "temprano" meaning "early". The grape supposedly ripens weeks earlier than other varietals.
Facts
So this would be my first Aussie Tempranillo, at least from what I can remember, but then again my memory is pretty horrible. Tempranillo has always been a grape that has fascinated me. It is so multi-dimensional, and can be produced in a variety of styles depending on the region and the preference of the winemaker. It's also seems to be a grape that can stand-up to a some time spent in the bottle.
Samuel's Gorge focus on Shiraz, Grenache and Tempranillo; grape varietals which they believe work especially well in the McLaren Vale region of Southern Australia.
I just read yesterday how Tempranillo has started making inroads into Thailand. I thought that was fairly interesting! Can't wait for my first Thai wine review!
Wine tastings at the Samuel's Gorge winery are conducted in what used to be an olive press house; and before that, a blacksmith's workshop. These are the types of stories wineries need to be telling people about! I think very few wine drinkers really  care about the PH or TA of a wine. Give people something they can relate to!
Two things caught my eye with this wine: the fact it was a Tempranillo coming out of Australia of course, but also the label. Anyone who says that the label isn't important to a wine is deluded. Of course it's "what's inside that counts", but I think consumers don't even give a lot of great wines a chance because the labels suck. Even Sommeliers can choose wines because of the label!
I'm really liking the website design for Samuel's Gorge, very clean and easy to navigate, they just need a bit more useful background info. I had a hard time scraping anything together for this article. They could also do with giving their Facebook Page a little attention.
Place (click map for larger view)
I'm a huge fan of mostly everything coming out of the McLaren Vale. The wines seem to be a tad more consistent than wines coming out of the Barossa Valley (also South Australia).
The McLaren Vale wine region is located about 24 miles South of Adelaide, and is deemed to have a Mediterranean-type climate.
Although Australia is referred to as a New World wine producing country, the first vines actually are believed to have arrived with European settlers around 1788.
Almonds, olives, venison, cheeses, berries, beef, lamb, and rainbow trout are renowned foods in the McLaren Vale, with Greek and Italian immigrants harvesting olives in the late 1800s.
The McLaren Vale was named after David McLaren, a Colonial Manager for  the South Australia Company who arrived back in 1837.
The McLaren Vale is usually known for its Shiraz, accounting for around 50% of the grape harvest in the region. Although, Tempranillo has apparently been tipped to be a very promising grape for the region. I hope so, because I think they've done a great job with this wine!
I can't decide if I love or hate the website for the McLaren Vale wine region. It almost reminds me of Jim Carrey's website.
Taste
Incredibly intense color, and with this wine being an older vintage (2006), the brambly blackberry, black cherry and ultra-ripe blueberry fruit is almost secondary to the savory notes of tea, tree bark and dried rosemary. The spices are mixed, with not so much in the way of pepper, but leaning more toward cinnamon, clove and baking spices. Stays exceptionally smooth, all through the finish. Open it up and let it breath!
Pairing
You need to completely forget that this wine is from Australia, and pair it like you would an Old World bottle (i.e. Europe). Beef bourguignon, New Zealand lamb, rabbit, duck, hanger steak, and aged cheeses. Saying all of that the Samuel's Gorge Tempranillo drinks great by itself!
Price
Sooooooo, here's the thing. I'm guessing this wine was on closeout from the distributor, and the retailer in question got it at a very good price. The reason I say that is because the price I paid for it, and the price I see it for sale on the Interwebs is a tad different. I'm therefore not going to sell this wine short and tell you the exact price I paid for it. Instead I'll put the recommended retail on this wine at $30-$40. If you can find it for sale under $30, you've got a bargain on your hands.
If you live in Jacksonville (Florida), you can always email me (kris@blogyourwine.com) to find out where I picked up this wine from.
This entry was posted in
Reviews
and tagged
Australia
,
Barossa
,
Jacksonville
,
McLaren Vale
,
Rioja
,
Spain
,
Tempranillo
,
Thailand
. Bookmark the
permalink
.
← What is Bottle Shock?
Three Vines Old Vines Field Blend, Contra Costa – California →