← The Strange Search Engine Results I Occasionally Attract.
Red, White and Blues Charity Event-Thurs Nov 10th →
Lamb Meatballs with Cumin, Mint, and Tomato Sauce Paired with Ramspeck Napa Pinot Noir 2009
October 18, 2011
Cabernet vines dominate the Napa Valley landscape, but everyone (I assume) knows that!
What often gets overlooked is that (given half the chance) Napa can still do a decent job with Pinot Noir; even though Sonoma, Willamette (Oregon), and Carneros hog most of the limelight. Now don't get me wrong, the Pinot's coming out of "the Valley" are stylistically very different than those hailing from the cooler aforementioned regions; producing wines which are much more "in your face". However, I don't think you should be so quick to overlook them!
Ramspeck was started by Gerry and Linda Rowland in 1991. Actually, it's more like they restarted it. You see, winemaker Gerry traced his family lineage back to 1537 in Europe (where all the history comes from), and discovered that his family had been turning grapes into wine loooooong before he was around! The Rowland family crest now adorns the label of all Ramspeck wines.
The recipe I opted to pair the Ramspeck Pinot Noir with was no doubt quite an interesting spin on meatballs, and one that I had I some concerns over even working together!
Realistically, I probably should have made cous-cous as an accompaniment, as the meatballs certainly have some Mediterranean-flare to them, but I had cous-cous last week, and I'm not a huge fan of it anyway! Who is, is what I want to know!?!? You don't hear too many people saying "Good Lord!!! I've REALLY got a cous-cous craving right now!"
Maybe I just haven't given the grainy semolina much of a chance, but with this dish, I opted for spaghetti instead.
Normally when it comes to wine, I'm not the kind of guy that likes to plan ahead, but in this case I made an exception. A simple guideline for getting your wine close to its correct serving temperature is to use the 20 minute rule. Take your white wine out of the refrigerator 20 minutes before you are ready to serve, and put your red wine in the refrigerator 20 minutes before you are ready to serve it.
I do have to say, I was thrilled with these meatballs! They were seriously impressive, and you should give them a try! The almonds and the mint gave them a significantly different taste, unlike any other I've ever tasted.This pairing didn't exactly start out as one of those "classical pairings" you read about, but the almonds, mint, and cumin worked really well with the wine.
The Ramspeck Pinot did over-power a little though, even though the alcohol was fairly restrained at 13.5%. The wine certainly had the drivers seat. Bold dark fruit, coffee, spice, bitter-sweet chocolate, and earthy notes. Smooth, long and dry on the finish. A wimpy Pinot Noir this wine is not! It could even benefit from some time in a decanter.
I picked up the Ramspeck Pinot Noir from a small local wine shop for $15.99 (Riverside Liquors for anyone living in Jacksonville), quite the bargain I thought!
Was it the best Pinot Noir I've ever tasted? No. But it without-a-doubt beat a lot of the competition I've tasted at twice the price!
I'll rate this as a:
Good Pairing
Recipe for Lamb Meatballs with Cumin, Mint, and Tomato Sauce
1. 1 1/2 pounds ground lamb
2. 4 tablespoons chopped blanched almonds
3. 3 tablespoons dried bread crumbs
4. 6 tablespoons chopped fresh mint
5. 3 cloves garlic, minced
6. 3 teaspoons ground cumin
7. 1 teaspoon salt
8. 1/2 teaspoon fresh-ground black pepper
9. 4 tablespoons olive oil
10. 1 large onion, chopped
11.  1x 15 oz can crushed tomatoes
1. In a medium bowl, combine the lamb, almonds, bread crumbs, 3 tablespoons of the mint, the garlic, 1 teaspoon of the cumin, 1 teaspoon of the salt, and the pepper. Shape the mixture into 16 meatballs, about 2 inches in diameter.
2. In a large nonstick frying pan, heat 2 tablespoons of the oil over moderately high heat. Add the meatballs and cook, turning, until browned on all over, about 3 minutes. Drain on paper towels.
3. In a large deep frying pan, heat the remaining 2 tablespoons oil over moderately low heat. Add the onion and cook, stirring occasionally, until translucent, about 5 minutes. Add the tomatoes and the remaining 1 teaspoon cumin and 1/2 teaspoon salt. Bring to a simmer, reduce the heat, and simmer, covered, for 10 minutes.
4. Add the meatballs to the tomato sauce and simmer, covered, until the meatballs are cooked through, about 10 minutes longer. Stir in the remaining 2 tablespoons mint.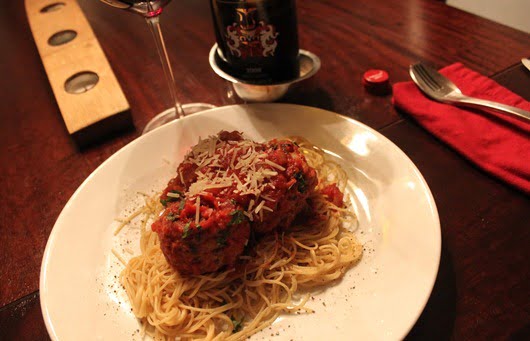 This entry was posted in
Pairings
and tagged
California
,
Napa
,
Pinot Noir
,
Ramspeck
. Bookmark the
permalink
.
← The Strange Search Engine Results I Occasionally Attract.
Red, White and Blues Charity Event-Thurs Nov 10th →