← The Bitch is Back….and This Time She's Spanish!
Win 2 Tickets to the 28th Annual Caring Chefs Event →
Slow Cooker Moroccan Chicken Paired with Palmaz 2007 Napa Valley Riesling
October 11, 2011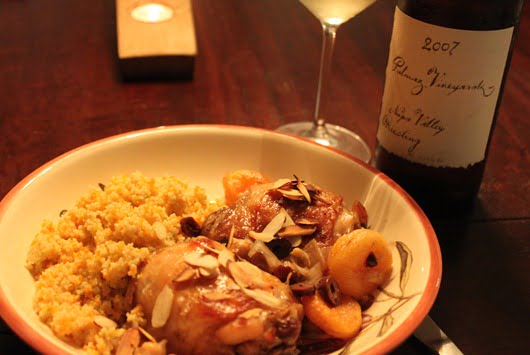 This recipe is my attempt at killing four birds with one stone; and by "birds" I mean my crockpot, chicken, my bottle of Palmaz 2007 Napa Valley Riesling, and my wife.
What do the three have in common, and why do you want to kill your wife with a stone?
Well…
My slow cooker has been looking kind of sad lately. All lonely, stuffed away in a dark-corner of my pantry, covered in dust, giving my the stink-eye every time I open the pantry door . It was time for a crock pot revival!

I find chicken to be the most boring of all meats (chicken wings not included), rarely cooking it in my home, and very rarely ordering it in restaurants. I decided to give chicken another chance.

This particular bottle of Palmaz 2007 Napa Valley Riesling has been sat on my wine rack since our trip to Napa in '08. I realized a long time ago that I've got far too much white wine in my cellar (I use the term cellar loosely, closet is more accurate), and I've slowly been working my way through it.

I'm continuing the crusade to convert my wife from being a Riesling-hater, to a Riesling-lover!
I therefore needed a recipe that combined all four!
When we went to the Palmaz winery, they weren't really conducting formal wine tours; but I called in a favor, and dropped the hint I was a "Somm" (free wine tours are one of the few perks of the job), and we managed to get hooked up. Palmaz do run tours now, but they want $60 a person for it! I don't care who you are! THAT'S a lot of money for a wine tour! It is guided by a member of the family though, and they only run one tour at a time.
Truth be told; the only reason I purchased the Riesling (and some of their olive oil), was that it was the only one of their wines I could afford at the time, but was still fairly pricey at $45 a bottle.
The Palmaz winery itself is a pretty insanely-spectacular place! Imagine if you will, the lair of a James Bond villain; 18 stories tall, connected by 4 caves, set into the side of a mountain. The equipment itself is designed by NASA engineers; and once you get down to the lower-level, there's guys in white lab coats whizzing around on little golf carts. That's Palmaz.
If you don't believe me, check out this video:
So anyway, back to the wine!
Clearing my "cellar" of all the whites has been a little hit-and-miss, with some definitely holding up better than others. With this being Napa Riesling, I had low expectations it would yield any kind of ethereal experience. Luckily I was proven wrong.
The Palmaz 2007 Napa Valley Riesling had more than ably stood the test of time, with the wine probably being able to handle another few years in the bottle.
Made in an off-dry style; the wine showed bold peach, caramelized pear, and luscious nectarine, with a fair amount of baking spice, honey, and white raisins. This was some pretty amazing juice, and without a doubt the best Napa Riesling I've ever tasted!
So how did the two pair…? Not as well as I expected actually…
I had hoped that the wine would pick up on the apricots and spice component to the dish, and they did, but they over-powered it a little. The wine did provide an interesting contrast to the dish, but didn't really bring out the flavor of any of the ingredients like I was expecting…I'll rate this as a:
Refreshing Pairing

Slow Cooker Moroccan Chicken with Apricots, Olives and Almonds
3 pounds skinless chicken thighs
1 onion, cut into 1/2-inch wedges
1 teaspoon ground cumin
1/2 teaspoon ground ginger
1/2 teaspoon ground coriander
1/4 teaspoon ground cinnamon
1/4 teaspoon cayenne pepper
Kosher salt and freshly ground black pepper
1 bay leaf
1/3 cup low-sodium chicken broth
One 15-ounce can chickpeas, drained
1/2 cup green olives
1/2 cup dried apricots
1/3 cup sliced almonds
1. In a large bowl, toss the chicken thighs with the onion, cumin, ginger, coriander, cinnamon and cayenne and season with salt and pepper. Transfer the chicken and onions to a slow cooker. Add the bay leaf and chicken broth, cover and cook on high for 2 hours. Stir in the chickpeas, olives and apricots, cover and cook until the chicken is tender and cooked through and the apricots are plump, about 1 hour. Remove the bay leaf and season the juices with salt and pepper.
2. Meanwhile, preheat the oven to 350°. Spread the almonds in a pie plate and toast for about 7 minutes, until fragrant and lightly golden.
3. Spoon the chicken and juices into shallow bowls, sprinkle with the toasted almond.
Serve with cous cous.
This entry was posted in
Pairings
,
Recipes
and tagged
Napa
,
Palmaz
,
Palmaz Winery
,
Riesling
. Bookmark the
permalink
.
← The Bitch is Back….and This Time She's Spanish!
Win 2 Tickets to the 28th Annual Caring Chefs Event →