← Blue Fish Restaurant Black and Blue Champagne Tasting
When Facebook Recommendations Go Bad. →
Conundrum Red Blend 2009 from California
November 9, 2011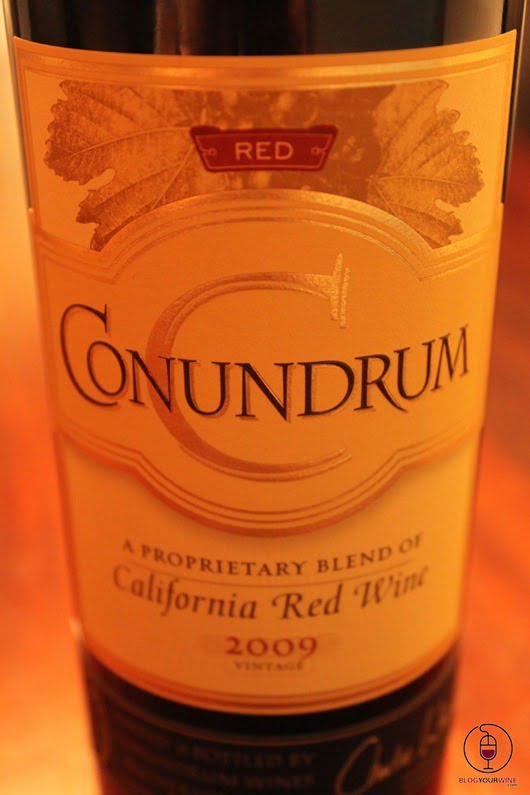 Grape(s)
No clue. I reached out for the winery, and their lips are staying sealed. I don't think any of the grapes in the blend will be a huge surprise.
Facts
Imagine my surprise walking down the aisle of the local-dirty-great-big-wine-store, when out of the corner of my eye I saw this on the shelf! I'd always heard that the Wagners (the winemaking family behind Conundrum, Caymus, Belle Glos and Mer Soleil) made a Conundrum red blend, but I'd always thought it was urban legend. I've been to the Caymus winery in Napa, and never seen it.

In my opinion , this wine should have been released 2 years ago. Red blends have started to dominate retailers shelves recently, and it seems to be a price war. What's one more label amongst the bunch? The Conundrum Red will do ok though, on the back of brand recognition.
The Wagner Family, who currently own and operate Caymus Vineyards, have been in America since 1885. They settled in Northern California, but ended up in Napa after the San Francisco earthquake of 1906.
From what I hear, the Conundrum Red has only been available about 2 weeks, with a fairly limited availability at restaurants and retailers. They went under the radar on it, since I haven't read anything about the release, either!
Whereas the white Conundrum is made by Jon Bolta, the red version is made by Charlie Wagner II. You can actually scan the QR code on the back label to see a very cool little video on Charlie, put together by a friend of mine at the Caymus winery: Frank Gutierrez.
You can visit the Conundrum website at conundrumwine.com, however don't expect to find any information on the Conundrum red, as there isn't any….yet.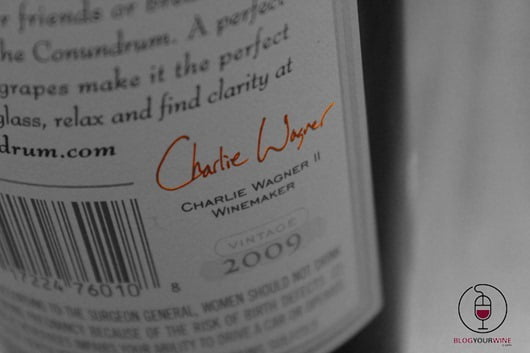 Place (click map for a larger view)
In 2007 the Wagners moved production of Conundrum to a brand-spanking-new winery in Monterey County, close to the sources of the most grape varietals that make up the wine. However, they currently don't offer tastings or tours to the public.
California is the No. 4 wine producer in the world, after France, Italy and Spain. The state produces approximately 90% of all wine made in the U.S., and two-thirds of all wine sold in the country.
As of 2009, there were 2,843 bonded wineries and 4,600 wine grape growers in California.
Taste
Lots of red fruit upfront. Interwoven bright and bold cherries, raspberries, and a little plum toward the back. A hint of sweetness, but not so much that it makes me wish I'd spent my money on something half the price. Shows almost a red velvet cake-type quality. Smooth, round, and VERY easy drinking. Tannins are controlled. The alcohol isn't particularly prevalent at 14.2%. No "hot" feeling on the finish. I think they did a good job on this wine.
Pairing
"A special night-out, or a lazy Sunday evening sunset? With friends, or breaking bread with family?" Conundrum's words, not mine. Unfortunately (or fortunately as the case may be), I'm not that poetic. I'll give the Conundrum Red my "food friendly" stamp of approval. Steak, lamb, red sauce pasta, pizza, or just on its own; this wine should pair well with mostly everything (within reason) that you choose.
Price
$18.99 – as I said previously, the release was only a few weeks ago, so it's going to be hard to come buy. I would say though, if you're a restaurateur reading this, it should probably be on your list. At the right price, it'll probably be one of your best selling red wines. Fact!
This entry was posted in
Reviews
and tagged
buy Counundrum red wine
,
Caymus
,
Conundrum
,
Counundrum red wine
,
Frank Gutierrez
,
QR Code
. Bookmark the
permalink
.
← Blue Fish Restaurant Black and Blue Champagne Tasting
When Facebook Recommendations Go Bad. →