← How to Cook a Turkey.
Never Have Truer Words Been Spoken… →
The Police "Synchronicity" Red Wine Blend, Mendocino, California.
November 25, 2011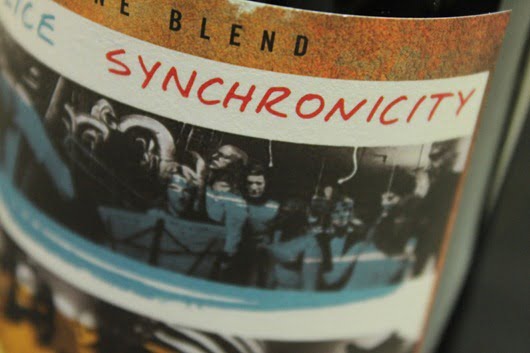 Grapes
Carignane, Zinfandel, Syrah, Petite Sirah, Grenache and Viognier (probably in that order, %'s unknown).
The term "Synchronicity" refers to a "meaningful mix of seemingly unrelated events resulting in a significant sum", which was the inspiration for this red wine blend of grapes which aren't commonly seen together.
Facts
Quite unbelievably, Sting is actually hand-harvesting all the grapes himself from this "Synchronicity-blend". He also serves as winemaker; and can regularly be seen in the winery treading the grapes under-foot, whilst singing "Message In A Bottle".
Just kidding, but how AWESOME of a story would that have been!?!?
Synchronicity is a label put together by the Mendocino Wine Co., who in turn developed the Wines That Rock line of wines. The vision for this new brand is "Great Tasting Wines Inspired by Music". They also make a Grateful Dead Wine, Rolling Stones' Forty Licks Merlot, Pink Floyd's The Dark Side of the Moon Cabernet, and Woodstock Chardonnay. No word on when the Slipknot Shiraz will be released…my guess is that it will be a very angry wine….
In 2007, the Mendocino Wine Co. became the first winery in the United States to achieve carbon neutral status.
Mendocino Wine Co employ a team of very respected winemakers to craft their wines. Spot the odd man out…
– Paul Dolan (Fetzer, Bonterra)
– Mark Beaman (Columbia Crest, Chateau St Michelle)
– Bob Swain (Gallo, Clos du Val)
– Christian Le Sommer (Chateau d'Yquem, Chateau Latour)
Only 100% consumer recycled paper is used for the Wines That Rock line. All wine case boxes, packaging stationery, and other printed materials are also printed on recycled paper, using soy and water-based inks. Sting would be proud!

Place
Mendocino County is the Northern-most "fine wine" region in California. It certainly doesn't enjoy the prestige that Napa and Sonoma do, but if you do a little searching you'll find some extremely interesting wines!
The first vineyards came to Mendocino in the 1850s, after the gold rush.
28% of Mendocino County's grapes used in winemaking are certified organic or Biodynamic –substantially higher than any other region in the U.S.
One third of all grapes grown in California hail from Mendocino.
Taste
Bright red fruit dominates, with a lightly spicy edge to keep it interesting. There's also some juicy blueberry lurking in there, as well as rhubarb, clove, and a little tree bark. Nowhere near as sweet as most of the other red blends on the market at this price-point. Viognier (white grape) helps to soften the blow of the spicier red grapes, a technique which is used in the Rhone region of France quite a lot. Fairly straight-forward, easy drinking, and gulgable.
Pairing
I wouldn't have guessed this was 14.5% alcohol. I think it holds it rather well. Very food friendly, and you'll have a hard time going wrong pairing this wine with red meat, pasta, pizza, burger, ribs, and hearty stews.
Price
$14.99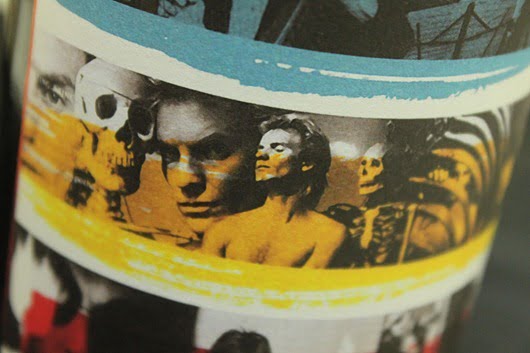 This entry was posted in
Reviews
and tagged
California
,
Carignan
,
Grenache
,
Mendocino
,
Petite Sirah
,
Sting
,
Sting wine
,
syrah
,
The Police Wine
,
Zinfandel
. Bookmark the
permalink
.
← How to Cook a Turkey.
Never Have Truer Words Been Spoken… →