← Four Vines Old Vine Cuvee Zinfandel, California
What They Don't Teach You in Sommelier School. →
Private Dinner Party with Wine Maker and Italian Chef in Your Home.
January 5, 2012
Have a Taste of Tuscany in your home by hosting a wine tasting and dinner!
During this intimate evening with famous Italian Winemaker Giuseppe Sala and his private chef, Andrea and your invited guests will have a rare opportunity to learn the family secrets of three generations of winemaking and discover the flavors of ancient Tuscan recipes used to prepare the four course dinner while Barbara coordinates in the kitchen. Chef Andrea, born and raise in Tuscany is currently the chef at the beautiful country estate of Borgo San Fedele near Radda in Chianti www.borgosanfedele.com. Giuseppe will pour four I Selvatici wines. They ask you have a minimum of 10 guests but no more than 25. The cost is $140 per person.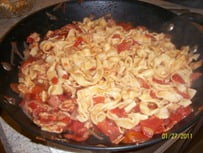 CALENDAR 2012
Ponte Vedra/Jax /Amelia Jan 7, 8 (NB: Short notice…sorry about that…)
Orlando Area Jan 12,13,15,19
Atlanta Sold Out
Nashville Feb 2,5
Dallas Feb 9,10,12
Birmingham – AL Feb 16, 19
Ft. Myers/Sarasota/St.Pete/Naples Feb 23,24,25,26
Palm Bch/Miami/Lauderdale Mar 1,2,4
DC/MD/VA Sold Out
Contact info@iselvatici.it or call Barbara in the USA at 407-481-0739 for more details or to arrange for your party.
Events
. Bookmark the
permalink
.
← Four Vines Old Vine Cuvee Zinfandel, California
What They Don't Teach You in Sommelier School. →