← Maybe Champagne was a Bad Choice…?
Teen Dining Etiquette Class at TPC Sawgrass. →
Understanding the Wine Term: Meritage.
January 13, 2012
Meritage has to be one of the most misunderstood and mispronounced wine words in the world.
With that being said, let's get the pronunciation out of the way first: "MARE-eh-tidge" is correct, and "MARE-eh-targe" is not.
First trademarked in 1988, the term Meritage is given to American blended wines that use the traditional grapes of the Bordeaux region of France. The word was chosen from more than 6,000 entries in an international contest. Meritage combines "merit" reflecting the high quality of the grapes, with "heritage" eluding to the historical blending of the Bordeaux varietals.
The idea comes from Californian vintners needing a way to classify the wines they produce which don't contain 75% of one particular grape (the legal minimum in order to be labeled as a "varietal" wine i.e. Cabernet, Merlot, Sauvignon Blanc etc.) Before use of the Meritage lingo, most producers had to settle for using their own proprietary term, or simply "table wine". This for obvious reasons caused a certain amount of confusion amongst buyers. "Table wine" on a wine label seems to imply "El Cheapo"!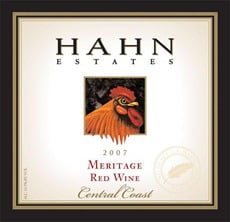 In order to be considered for "Meritage" designation, it must meet a set criteria:
· It must be the winery's best wine for its style.
· Its production must be limited to 25,000 cases for each year.
· It must be a blend of at least two, with no one of the grapes making up more than 90% of the blend. For reds, these grapes are Cabernet, Cabernet Franc, Merlot, Malbec, Petite Verdot and Carmenère. For whites; the grapes are Sauvignon Blanc, Semillon and Muscadelle.
If a wine makes the cut, the Meritage Association grants use of the term, and charges on average $1 for every case produced.
For more info, visit the Meritage Alliance
This entry was posted in
Facts
and tagged
Meritage
. Bookmark the
permalink
.
← Maybe Champagne was a Bad Choice…?
Teen Dining Etiquette Class at TPC Sawgrass. →