← Quinta de Roriz "Prazo de Roriz" Douro, Portugal.
Orange-Glazed Chicken Wings Paired with Batasiolo Gavi, Piedmont, Italy. →
When is a Wine Not a Wine? When European Regulations Say So!
June 6, 2012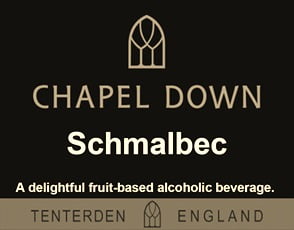 The New York Times has reported that the Chapel Down Winery (England), recently crushed more than two tons of refrigerated Malbec grapes that had been air-freighted over from Mendoza, Argentina, in hopes of producing an English take on the popular South American wine.

The problem came when it was time to bottle. Frazer Thompson, chief executive of Chapel Down, was told that he had breached regulations that prohibit the use of grapes from outside the European Union to make wine inside it. Since the wine doesn't adhere to the guidelines, it is not allowed to call itself "wine", and instead be forced to use lingo such as "fruit-based alcoholic beverage," if it is to ever be sold.
"Calling it 'Chapel Down Malbec, made from Argentinian grapes' is illegal," Thompson stated. "It's not debatable, it's illegal."
The only other problem is that even if the Chapel Down winery did use lingo such as "fruit-based alcoholic beverage," it still wouldn't be allowed to be sold alongside wines in supermarkets and other stores.
Mr. Thompson, a former senior executive with Heineken, says the labeling rules remain arcane and, to many, incomprehensible. More than that, he argues, the rules stifle innovation, particularly in regions like Britain where the wine industry is relatively young but quickly expanding. Though still only a fraction of the size of the industry of France, Britain has a growing reputation for its white and sparkling wines.
In effect, that is what Mr. Thompson decided to do. Instead of selling the product, he has elected to use most of it in wine-tasting events, giving the rest to trade partners, employees, wine critics and charities, he said.
Click here for the full article.
---
My Thoughts…
Typical bloody English way of doing things! Ignore the rules and then complain when the law comes down on you. This is TOTALLY something I would have done! I feel a little-bad for ol' Frazer Thompson…but not much. He'll survive. Lesson learnt.
I'm sure it would have been a fun experiment, but I can't imagine it would have been cheap to get those grapes harvested, transported, air freighted and then transported again, all so that Chapel Down could produce an English-Argentine Malbec. I know a great number of wineries that stress-out about getting the grapes in the best available condition when the winery is only a mile or two away from the vineyard!
This entry was posted in
News
and tagged
Argentina
,
Chapel Down winery
,
England
,
English wine
,
Malbec
. Bookmark the
permalink
.
← Quinta de Roriz "Prazo de Roriz" Douro, Portugal.
Orange-Glazed Chicken Wings Paired with Batasiolo Gavi, Piedmont, Italy. →