← Wasps: They Don't Just Indiscriminately Sting People, They Can Also Make Wine!
Wine Dinner at III Forks – Thurs Aug 16th. →
Charles Smith to Launch an All-Chardonnay Winery.
August 7, 2012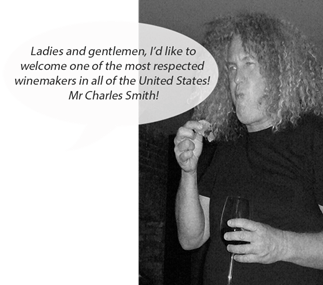 Renegade Washington winemaker Mr. Charles Smith, has his sights set on Chardonnay and only Chardonnay, with his new winery project.
The move represents a change of pace for Charles, as his usual focus is towards making top-level Syrah.
The once rock band manager, Smith bought the Whitman Cellars facility after it declared bankruptcy in Walla Walla (Washington) earlier this year, and plans to use the 20,000-case winery exclusively for Chardonnay production.
"There are some really good Chardonnays here," said Smith. "We have the soils. We have the cool climate. Let's see what can happen if we create a winery that just focuses on Chardonnay."
To oversee all these wines, Smith has hired former Efeste winemaker and assistant winemaker at Chateau Ste. Michelle, Brennan Leighton. For the Chardonnay project, Leighton already has his eye on grapes from several high-elevation sites planted with vines more than 30 years old.
"Charles convinced me when he said he wanted to make some of the best wines in the world," Leighton said. "I've been wanting to explore the best sites in the state for Chardonnay for a long time." .
Click here for the full article from the Wine Speculator
My Thoughts…
We need more guys in the wine biz like Charles Smith! He adds character to an industry that has a tendency to take itself a little too seriously. The Chardonnay world could do with a little shake-up as well. It will be interesting to see what Charles has up his sleeve…
This entry was posted in
News
and tagged
Charles Smith wines
. Bookmark the
permalink
.
← Wasps: They Don't Just Indiscriminately Sting People, They Can Also Make Wine!
Wine Dinner at III Forks – Thurs Aug 16th. →