← Vintage Port Wine For Sale – Jacksonville
Releasing Wine Before it's Time. →
Lamadrid Cabernet Franc, Agrelo, Argentina
August 30, 2012
Grapes
100% Cabernet Franc
Facts
Cabernet Franc isn't exactly the first grape that springs to mind when you think of Argentina. Maybe that's why this one wasn't that pricey!
Cab Franc shouldn't be named the "red headed stepchild" of Argentine grapes; it's actually more like the: "some guy who showed up a party (hosted by a guy named: 'Mal Bec') without an invitation, and was ignored by everyone there, even though he has a charming personally if you only took the time to get to know him a little better" grape…if you know what I mean. I know you probably don't…and that's OK!

Unlike the vast number of wine producing regions, Reserva on a bottle of Argentine wine DOES actually have a legal definition:
– Reserva wines must be produced from a minimum of 297 lbs. of grapes per 100 liters of wine, with a minimum aging of 12 months for red wines and 6 months for whites and roses.
– Gran Reserva wines must be produced with a minimum of 308 lbs. of grapes per 100 liters of wine, with a minimum aging of 2 years for red wines and 1 year for whites and roses.
The La Madrid actually goes a little above and beyond the aforementioned Reserva requirements, and spends 14 months in oak, with 50% in "first use" and 50% in "second use" French oak barrels. The wine also only has a 1,000 case production.

The name "Lamadrid" comes from the family name of the owner and founder of the winery: Guillermo García Lamadrid. He's originally from Cuba and emigrated Argentina (via Puerto Rico) in 1961 and became a successful winemaker.

Don't let the price fool you, The Wine Advocate gave the Lamadrid '09 Cabernet Franc 91 out of 100 points!
Click here for the Lamadrid wines Facebook page…but you may need to brush-up on your Spanish if you plan on understanding a single word of it!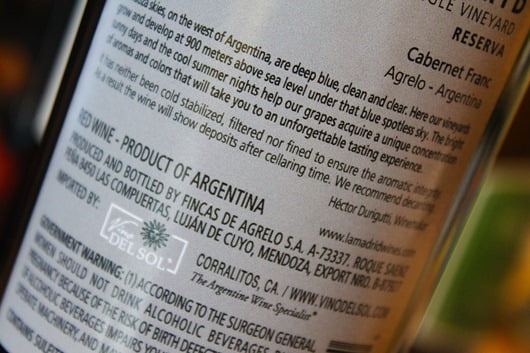 Place (click map for larger view)
Agrelo is a smaller region within the greater Mendoza region of Argentina.
With around 400,000 acres (625 sq. miles) under vine, Mendoza is Argentina's largest wine-producing region.
Whereas some people believe the best wines to be made in the winery, it doesn't do any harm to have some of the world's best vineyards in which to grow your grapes!
The perfect drainage experienced in Mendoza, coupled with the high altitude of the vineyards, help to reduce vine disease and provide a long growing season, assisting in low yields of small berries, with a concentrated flavor, plenty of color and ripe tannins.
Argentine vineyards rely strongly on the snowmelt from the Andes mountains for their irrigation.
Mendoza accounts for 70% of Argentinean wine produced.
Vineyards in Argentina are widely spread out up-and-down the whole country, and mainly almost totally confined to the western part of the country, due to the aforementioned issue of irrigation.
Taste
The Lamadrid doesn't go through any stabilization or clarification (music to my ears!), so you can expect the wine to have a slightly cloudy appearance.
Not your typical Cabernet Franc on the nose, instead more of a blend of dried herbs, truffle, and cloves intermingled with black fruit. The palate shows mainly plum and blackberry, but also has a decent helping of "secondary" flavors, with leather, tobacco, mint, vanilla and oak. Smooth and bold, with a sizeable finish. This wine should be more expensive!
Pairing
Lamb meatballs with fresh basil, tomato soup, lasagna, game, red sauce pasta, veal, prosciutto, or rosemary crusted Manchego cheese.
Price
$17 (average retail)
This entry was posted in
Reviews
and tagged
Agrelo
,
Argentina
,
Cabernet Franc
. Bookmark the
permalink
.
← Vintage Port Wine For Sale – Jacksonville
Releasing Wine Before it's Time. →