← Hitler Wine Leaves a Bad Taste.
Wine: What am I Paying for and What's the Difference? – I Know Jax →
Rendez-vous Grenache Rose Paired with Salmon with Curried Fennel-Wine Sauce.
August 13, 2012
If you caught my recent post on pairing foods with rose wine, you'll know that I consider roses to be one of the most food friendly, albeit one of the most overlooked, wines to match with food. I'd even go so far as to put them right up there with Riesling and bubblies, as far as their all-round pairing ability!
I've said it countless times before, but I still feel the need to reiterate, that roses still have quite the identity crisis on their hands. Pink colored wines can't help but remind people of white Zinfandel. To be brutally honest, I know for a fact that most of it is just in peoples' heads! When people see a rose, the wine fairy IMMEDIATELY appears on their shoulder, and screams into their ear:
"Errrrrm, what are you doing?!?!? We don't drink that cr*p, remember!?!? What are we, 16?!?!? For a start, it's so sweet you'll go into a diabetic coma within 5 seconds of taking a sip. Secondly, what if someone sees you drinking a pink wine?!?!"
From that point onwards, they've got the thought stuck in their head that the wine is going to be too sweet, and it really doesn't matter too much what it actually tastes like, their opinion will already be skewed.
I find the same phenomenon to be true with Riesling. If you taste someone on a Riesling (after they've stated they always find Riesling to be too sweet), I guarantee you that it doesn't matter how dry the wine is, they will still declare it to be sweet for their taste. Lie to them and tell them it's a Pinot Grigio (or another one of their favorite white wines), and I promise you they will love it! Funny how that works…
It's therefore in the hands of wineries such as Rendez-vous to do everything in their power to change peoples' opinion, one "pink wine" at a time!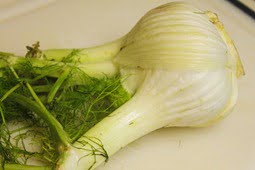 Moving on!
I wonder how many people would correctly identify the left-hand photo to be fennel….not many I imagine…
I don't know about you, but I rarely cook with fennel, either in bulb-form or as a seed. I know it's mainly used in Indian cooking (which I love!), but I can't say that I'm all that good at making Indian food. I'd rather leave it to the pros!
Because fennel has a strong licorice/anise flavor to it and a texture not unlike celery, it finds rather limited usage in recipes (at least ones that I've ran across). Wine pairing-wise though, it shouldn't cause too many problems.
The Rendez-vous Grenache Rose is a beautiful example of what more "serious" wineries are capable of producing when they set their sights on making a killer rose! I will say though, that whilst both the wine and the recipe were delicious, the pairing didn't really work as well as I had initially hoped. The main reason being that the wine just had/has too much flavor, and kind-of over-powered the salmon a little. Not with sweetness, but with pure unadulterated flavor! It worked perfectly with the curried fennel, and certainly wasn't too affected by the heat from the curry powder.
The Rendez-vous is a quintessential summertime wine, and I think it would have found a much better home paired with a simple watermelon and pink grapefruit salad. This meal really needed more of a Provence-rose style i.e. lighter in body, and a little wimpier in texture/flavor.
This rose isn't quite as dry as the majority of others I've been reviewing recently. The wine has an almost fluorescent pink hue, and is bursting with flavor. Thirst-quenching juicy raspberry, watermelon and bright red cherry dominate from start to finish, all balanced with a grapefruit-esque acidity. No detectable oak (for obvious reasons), but the slightest hint of white pepper. Medium in body, it hangs out on the palate for a while and finishes cleanly.
The Rendez-vous Grenache Rose is $18 (or $16.17 with a 12 bottle purchase) and available from Rendez-vouswiney.com.
Recipe for Salmon with Curried Fennel-Wine Sauce
Serves: 4
Prep Time: 10 mins
Cooking Time: 30 mins
INGREDIENTS
– 4 tablespoons olive oil
– 2 large fennel bulbs, halved, cored and sliced lengthwise on-third inch thick,
– Salt and freshly ground pepper
– 4 scallions, cut into 1-inch lengths
– 1 1/2 teaspoons curry powder (medium hot)
– 1/4 cup dry white wine
– 1 cup clam juice
– 4 salmon fillets
– 1/2 tablespoon lemon juice
– 2 tablespoons cold unsalted butter
METHOD
1. In a deep skillet, heat 2 tablespoons of the olive oil. Add the fennel and season with salt and pepper. Cover and cook over low heat, stirring occasionally until tender, about 15 minutes.
Add the scallions, cover and cook for 2 minutes. Transfer contents of the skillet to a bowl.
Add the remaining 2 tablespoon of olive oil to the skillet and add the curry powder. Cook over low heat, and stir for about 1 minute. Add the wine and cook over high heat until reduced by half, about 2 minutes. Add the clam juice and boil until reduced by half again, about 4 minutes. Cover and remove the skillet from the heat.
2. Turn the broiler up to about medium-high. Arrange the salmon on a baking sheet and season with salt and pepper. Set the baking sheet about 8 inches away from the heat and broil for 6 minutes, or until cooked throughout.
3. Meanwhile, scrape the fennel and scallions into the sauce and reheat; stir in the lemon juice. Remove the skillet from the heat and stir in the butter, 1 tablespoon at a time, until incorporated. Season with salt and pepper.
4. Place the salmon in the center of your plate and spoon the sauce on top. Serve.
This entry was posted in
Pairings
,
Recipes
and tagged
California
,
Clarksburg Grenache rose
,
Grenache
,
Rendez-vous
,
Rendez-vous wine
,
Rendez-vous winery
,
Rose
. Bookmark the
permalink
.
← Hitler Wine Leaves a Bad Taste.
Wine: What am I Paying for and What's the Difference? – I Know Jax →