← Red, White and Blues Wine and Food Tasting.
Learn to Recognize the Early Signs of a Wine Drinker! →
Fulcrum Gap's Crown Vineyard Pinot Noir, Sonoma Coast.
September 14, 2012
Grapes
100% Pinot Noir
Facts
Ok, let's get something straight from the start! There's Pinot and there's Pinot. The perception of Pinot Noir by most wine drinkers has been so skewed, thanks to grocery store brands, that it's not even funny! Sure, wines such as the Fulcrum aren't "everyday gluggers," but if you really want to know what Pinot Noir SHOULD taste like, you need to be willing to occasionally invest a little more cash every now and then…
David Rossi and his wife Christinna are the founders of Fulcrum Wines. David is known to be about as hands-on as a winemaker can be, even going so far as loading and hauling the fruit to the winery himself.
Instead of taking what seems to be the "usual approach" so often seen by a great number of wineries (whom obviously have accountants watching over their every move), David Rossi focuses on making the purest expression of Pinot possible i.e. no other grapes/additives to "bulk up" the juice.
David Rossi didn't get the luxury of a UCD education in enology and viticulture, his winemaking career actually began at home. Obviously his wife is a very patient woman!
What started as a hobby, expanded into his basement, which he swiftly filled with commercial winemaking equipment and every wine chemistry textbook known to mankind. He then graduated onto a custom crush facility in California where he earned his first 94 point rating from the Wine Spectator for his Gap's Crown Pinot (which at the time was named "Split Rock").
Place (click map for larger view)
The Gap's Crown vineyard is situated on the western edge of Sonoma Mountain and is comprised of 37 different vineyard blocks that span 140 acres (that's about 0.2 of a sq mile).
The uniqueness in the way the Gap's Crown vineyard "captures" the fog is what makes the grapes grown in this tiny plot of land so special. The natural fog pocket created by Crane Canyon and Sonoma Mountain essentially funnels the coastal fog into the Gap's Crown. The resulting effect is that the fog takes longer to burn off, meaning instead of being immediately hit by the daytime heat, the grapes are allowed to ripen slower and develop their sugar and acid in harmony with each other.
Gap's Crown is located in the Petaluma Gap, in Sonoma County. Whilst it isn't an "official" AVA, more than 40 vineyards call the Petaluma Gap home, with the focus being on producing some of the best Pinot Noir and Chard coming out of CA.
The Gap's Crown Vineyard themselves have their own website, and I'm going to say it's possibly the best looking wine website I've seen in 2012! Click here for GapsCrown.com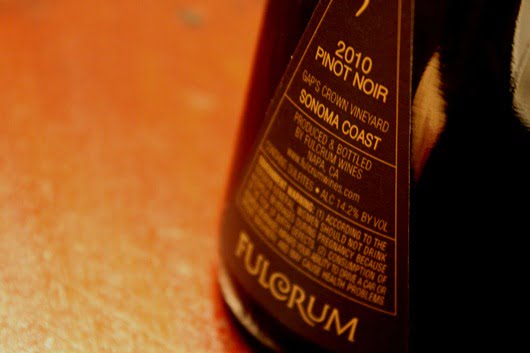 Taste
Surprisingly subtle on the nose, maybe even warrants decanting. Either that or another year or two in the bottle. Once it's been allowed to open up, you'll be greeted with baked cherry and rhubarb pie, as well as ripe raspberry and spice and clove.
Darker fruit on the palate, giving way to plum and ripe-dark blackberry. The spice continues with some secondary flavors of tree bark, anise, tea leaf on the back end. The acidity is mellow, but enough to hold up to another few years in the bottle
I blind tasted a group of aspiring Sommeliers a few nights ago on an another Sonoma Coast Pinot (which shall remain nameless, but is one of the most highly regarded Pinot's in the U.S. right now). From the sheer color of the wine alone, they all guessed it was Cabernet. Then they tasted it, and thought it was a Syrah! This isn't uncommon.
As I previously stated, the "average" California Pinot has gone off on a HUGE tangent, in order not to be deemed "watery" and "thin." by consumers. Pinot Noir made in the style of the Fulcrum is not made for the "mass market." These wines are made for people who know what the grape is capable of if you just give it half the chance! This without the winemaker throwing a bunch of other "junk" in there to change the color and add fruit/sweetness to give people what they want. This wine doesn't care what you want. This is what Pinot Noir should look/taste like.
Pairing
I already did a food pairing with this wine, but I'm not going to give away what I made, since I plan to post the article in a week or two. However, what I will say is that with wines like this you need to try and look for specific flavors in the wine and try and pick upon those flavors in the dish. This achieved by way of ingredients such as clove, pepper, spice, nutmeg, and dark fruits. This wine shouldn't give you too many problems at all, so long as you think the pairing through!
Price
$56 – Available from select retailers and Fulcrumwines.com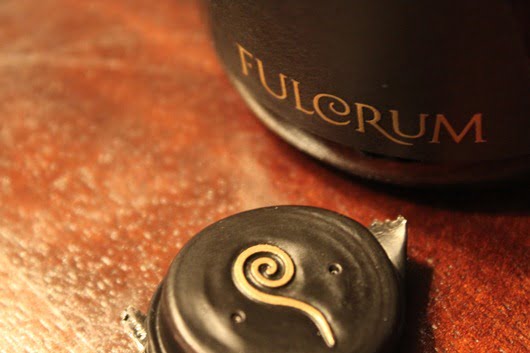 This entry was posted in
Reviews
and tagged
California
,
David Rossi
,
Fulcrum Pinot Noir
,
Fulcrum wine
,
Gaps Crown
,
Gaps Crown Vineyard
,
Pinot Noir
,
Sonoma
,
Sonoma Coast
. Bookmark the
permalink
.
← Red, White and Blues Wine and Food Tasting.
Learn to Recognize the Early Signs of a Wine Drinker! →