← Local Chef Wine Dinner at Roy's – September 26th
M. Chapoutier Wine Name Stolen by Chinese Clothing Manufacturer. →
Shrimp Burgers with Avocado Aioli Paired with Willow Crest Pinot Gris, Washington.
September 21, 2012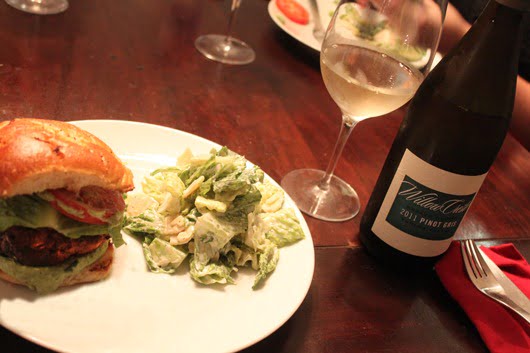 I get the feeling this is going to be one of the last summer pairings I create, at least for 2012. It's started to cool off a little here in Jacksonville, and I feel myself slowly gravitating towards "heartier" meals/wines. Not that that's a bad thing! I'm definitely much more of a red drinker, but this year I've made an extra effort to drink more whites and also feature more meals which would pair accordingly. It was quite eye-opening! You should give it a try…at least…if you're a die-hard red fan.
I'm sure most people will disagree, but even with my favoring reds, I still think whites do an overall much better job when pairing with food. I know that's a very general statement, but it's the conclusion I've come to. Maybe it's their subtlety, but I find them to compliment individual ingredients much better than reds and don't overpower as often.
The wine I chose to pair with these Shrimp Burgers with Avocado Aioli was the Willow Crest Pinot Gris. A truly beautiful wine which I discovered for a couple of months ago.
If you haven't already noticed, avocadoes seem to be appearing in a lot of my recipes recently! I don't know why I haven't really used them in the past. It seems that people only reach for them when they're making guacamole…shame really!
I will say the one BIG mistake I made with this recipe was to make the burgers too large! If anything, you should probably aim to make them closer to the size of mini-sliders. You've been warned!
I haven't ever made burgers using shrimp before (and I don't think I'm alone in admitting that), but I wanted to make sure they were cooked all the way through. This meant leaving them on the grill for more than 10 minutes. That was where I went wrong! However, I've adjusted the recipe instructions accordingly so you don't make the same mistake I did! Not that they were bad the way I made them, but I promise you they will be better-off as sliders, rather than one big burger.
Wine like the Willow Crest Pinot Gris is MADE for meals like this! It's clean, crisp, refreshing, although much bolder than Pinot Gris from neighboring Oregon. It really helped to liven up the meal and brought some contrasting flavors into the mix.
Beautifully fragrant, the wine opens with cantaloupe, grapefruit, passion-fruit and guava. Medium-bodied, rich, and with a good acid balance, the wine evolves into citrusy blood orange and grapefruit on the long finish. I can quite easily say that it's one of the best, if not the best, Pinot Gris for the money that I've tasted coming out of Washington State.
The additional thing to know about the Willow Crest is that it uses single-vineyard, "estate-grown" fruit. It's also available for under $15 retail. Usually those are NOT two sentences that you can't put next to each other! This because the more specific a wine gets (with its place of origin), the more expensive it usually gets. If you find the Willow Crest, don't hesitate to pick up a bottle..or three.
---
Recipe for Shrimp Burgers with Avocado Aioli
Serves: 4
Prep Time: 20-25 mins
Cooking Time: 5-8 mins
INGREDIENTS
Shrimp burgers:
– 1 lb. medium shrimp, shelled and deveined
– 1 egg
– 4 tbsp cilantro, chopped
– 2 garlic cloves, peeled
– 3 tablespoons canola oil
– Mini slider rolls, split in half
– 2 tomatoes, sliced
– Romaine lettuce leaves
– 1/2 cup Panko breadcrumbs
– 1 poblano chile, roasted, peeled, seeds removed, ends chopped off and finely diced
– 1 small white onion, finely diced
– Sea salt and freshly ground black pepper, to taste
Avocado aioli:
– 1 Haas avocado, halved, seed scooped out, and peeled
– 1/4 cup mayonnaise
– 1 serrano chile, cut in half and seeded
– 3 tablespoons chopped cilantro
– Sea salt and freshly ground black pepper, to taste
– 2 tbsp lime juice
– 2 medium garlic cloves, peeled

METHOD
1. Take one half of the shrimp, "rough chop" and set to one side.
2. Put remaining half in a food processor and grind to a coarse puree. Add egg, cilantro and garlic to processor. Process until smooth. Add breadcrumbs, process again. Transfer contents of food processor to a large bowl and then wash out the food processor bowl.
3. Add coarsely chopped shrimp, poblano chile and onion to the other shrimp mix. Season with salt and freshly ground black pepper to taste. Mix well. Chill for 15 minutes. Form mini-patties, no larger than two inches across and set aside.
4. Scoop the avocado pulp into the bowl of a food processor. Add the mayo, lime juice, garlic cloves, serrano chile, cilantro, salt and pepper. Process until smooth. Season to your preference.
5. Serve shrimp burgers on buns, with avocado aioli on both sides of the bun, sliced tomato and lettuce.
This entry was posted in
Pairings
and tagged
Pinot Grigio
,
Pinot Gris
,
Shrimp Burgers with Avocado Aioli
,
Washington State
,
Willow Crest
. Bookmark the
permalink
.
← Local Chef Wine Dinner at Roy's – September 26th
M. Chapoutier Wine Name Stolen by Chinese Clothing Manufacturer. →