← Vincent Girardin "Emotion" Pinot Noir, Burgundy, France.
Self-Serve Wine Stations on the Rise. →
Win 2 Tickets to the Riverside Wine Festival!
October 27, 2012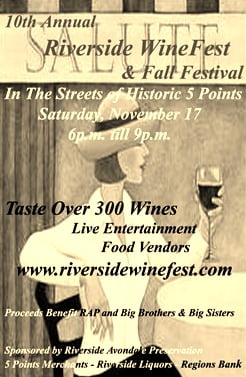 The 10th Annual Riverside WineFest & 5 Points Fall Festival is set for Sat, Nov 17, 2012!
The party starts at 6pm, and the 1000 block of Park Street will be closed to traffic for you to enjoy the wines and live entertainment. Food venders will also be in the street and stores will be open extra hours for your enjoyment.
Personally, I have 2 favorite wine tasting events in Jacksonville: Caring Chefs and the Riverside WineFest. Unfortunately since the Riverside event falls right-around my birthday, I am usually out of town for it….BUT NOT THIS YEAR!!! I will be there in full force!!!
The Riverside WineFest lets you taste over 300 wines from around the world and shop at participating merchants for great fall and holiday specials. While there are a lot of wine events in Jacksonville, no other event offers so many quality wines for such a small donation!
You'll be pleased to know that I have two tickets to give away for the Riverside WineFest (a $60 value!) and I've made it VERY easy to win! All you have to do is answer the following question and email me the answer:
Last year, how many people attended the Riverside WineFest (the answer can be found at the Riverside Liquors website)
a) Less than 100 people
b) 200-500 people
c) 500-100 people
d) More than 1,000 people
Once you have chosen the correct answer from one of the 4 options above, shoot me a quick email at kris@blogyourwine.com and you will be entered for a chance to win. The competition deadline is Saturday Nov 3rd at midnight. One entry person. Entry will be selected at random. All email addresses will be added to JacksonvilleWineGuide weekly email newsletter. Tickets will be made available to you on the day of the event at Riverside Liquors.
Good luck, and remember that even if you aren't chosen as the winner, tickets to the Riverside WineFest are only $30 a person with the proceeds being donated to Riverside Avondale Preservation & Big Brothers & Big Sisters Of North Florida. Click here for more information on the Riverside WineFest.
This entry was posted in
Events
,
Giveaways
and tagged
Jacksonville
,
Riverside Liquors
,
Riverside Liquors Jacksonville
,
Riverside Wine Festival
,
Riverside WineFest
. Bookmark the
permalink
.
← Vincent Girardin "Emotion" Pinot Noir, Burgundy, France.
Self-Serve Wine Stations on the Rise. →