← Not Sure How to Choose the Right Turkey for Thanksgiving? This guide can help!
California Beaujolais? →
A Quick Soiree with Andrew Lazorchak.
November 16, 2012
What is your position with Soiree?
I am the co-owner and managing partner for SoireeHome.
How did you come to be involved with Soiree?
Soiree was conceived of over a few different nights at a wine bar that I designed for my, now, business partners but prior long time family friends. I was an architect at that time, with a focus on architectural branding. After some discussions at the wine bar and looking at all the wine paraphernalia one acquires when they have a wine bar in their house, we thought it may be fun to get into the business!
So, at first I was just thinking I would make a portfolio piece to showcase packaging design, branding and light product design. After sniffing around and kicking the tires, we decided to give Soiree a test run. That was 2006-2008. We launched officially at the Boston Wine Expo in Feb 2008. With a lot of hard work, we found ourselves as a known accessory to the wine industry and we eventually became rooted in the Housewares Industry.
Can you aerate anything with the Soiree i.e. white, red, Champagne?
No you cannot aerate anything. Sparkling wines shouldn't be aerated, unless you like a bubbly mess on the ceiling and floor!
Whites and reds can both be aerated, but one must play detective and see what characteristics have unfolded when the wine is aerated and when it is not. This way you can determine what is best for your palate.
Port opens up wonderfully when aerated. Cognac, Pisco, and any other spirit from grapes will benefit from the Soiree. While aeration does nothing for the chemistry of spirits, when aerated spirits will taste smoother on the palate and the back of the throat. So while the spirit may taste smoother, the aeration effect is not to be compared with how wine is effected. Soiree has been used by professionals on bourbon, tequila, vodka etc, but it is not an avenue we have elected to market.

Are there any types of wine you shouldn't aerate?
Yes and no. It's really more a question of how wine geeky are you.

I'm very wine geeky….but in a good way…
Ok, my blanket statement is: the lighter the color and body of the wine, the less air it can handle and less it will benefit with aeration. For example; younger hearty reds (Zin, Syrah, etc) can be aerated without hesitation. Lighter Pinot Noir or Gamay may only benefit with a bit of air, before their body / structure starts to fade.
Whites wines can be aerated, but again if they do not have a good structure or acidic backbone, they should be watched carefully that they are not over-aerated. White wines will see heightened aromatics when Soiree'd, and the Soiree is a great way to get the oak in white wine to blow-off or integrate.
Aged wines usually will fall apart if they get treated roughly, but I have tried Soiree on 14 year-old wine from a magnum, and it actually helped recompose the wine. Soiree took a damp brine-y nose and brought in some light cranberry and leather notes. It really depends on the wine is holding up in the aging process. In general, if an older wine tastes good, I would let it be. But any wine I find to have an over pronounced character or flavor profile, Soiree usually helps the wine present and balance out.
If you were to pick one type of wine, which would you say benefits the most from aeration?
Young and robust red wines benefit the most. Think New World, warm climate, and a recent vintage and you have a wine that will sing when aerated, especially your everyday wines. Everyday wines are not "perfect wines" and aeration will again assist in ironing out flaws and enhancing the body of the wine.
Go on then…answer this: There seems to be 1,001 different wine aerators on the market: What makes Soiree any different from the rest of the bunch?
Soiree is the only in-bottle wine aerator made from glass. When you look at the various wine aerators available, they are typically acrylic. And if you look at every instance where people serve wine in any proper manner, they always serve from glass. Even in the winery, wine is in wood, stainless steel, and then glass. Plastic is never a part of the equation. Plastic will retain flavors, stain, and even dampen the mid-palate.
Most wine aerators have followed the venturi physics used in carburetors, which draws oxygen into wine by injection. This process is counter-intuitive to the wine aging process. Wine should not be punctured by air, this stream of air un-integrates the bottle-aging and melding process. A thinner wine can be decimated when exposed to this aggressive of an injection. Soiree is gentle on wine.

Do you think there's any truth to the "myth" that aerating can make wines taste more "expensive?"
I'd say its more an opinion than a myth, and I agree with it, again, assuming the wine is one that will benefit with aeration. But I have had many people say, it turns a $12 bottle into a $20 bottle. By heightening aromatics and expanding the mid-palate and helping integrate any flaws, it would make sense that aerating helps a wine present as a more expensive bottle.

I noticed you have established "Soiree Home." Could you tell me a little more about it…
SoireeHome is our new parent brand, which is founded on the principles of creating tools that heighten culinary experience. We want to simplify and enhance how the growing gourmet audience can approach and appreciate fine beverage and food. For now SoireeHome is beverage focused, but I foresee us exploring the design of hospitality and dining tools.

Any products you are particularly proud of?
Soiree is our mainstay and I have to recognize the success and growth it has brought me and the company, it has changed my life and I am in awe of that. But I am also very proud that we as a brand SoireeHome are just coming up on our 1 year anniversary and the response has been very good. We are honestly still feeling out our brand and our identity and that excitement is what keeps us going forward!
Any chance you can throw some of those products my way so I can do some giveaways in the lead up to Christmas?
For you buddy, anytime! Cheers!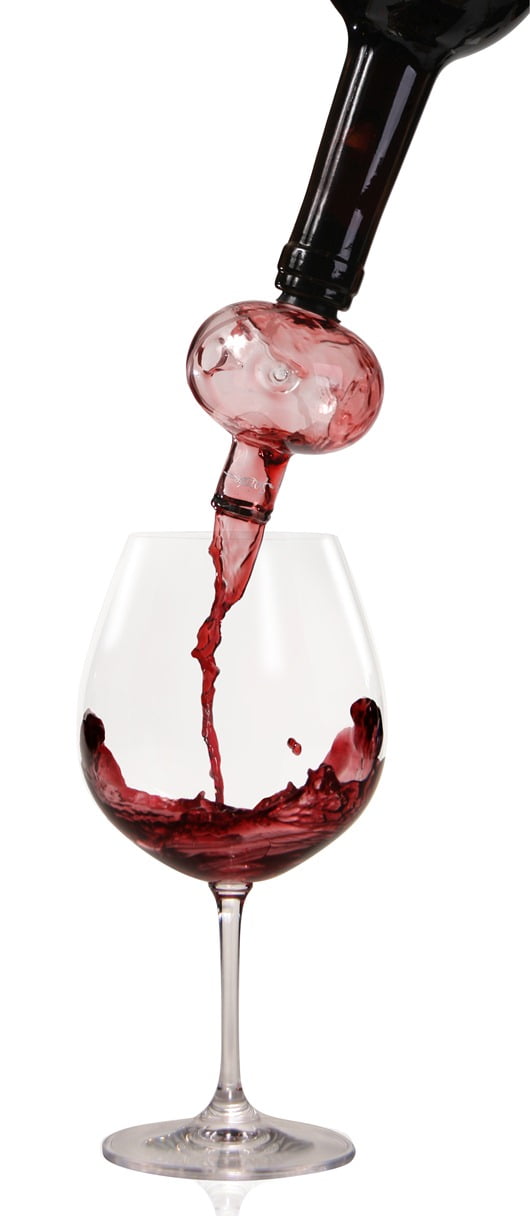 This entry was posted in
Interview
and tagged
aerating wine
,
Aerator
,
Andrew Lazorchak
,
best wine aerator
,
best wine decanter
,
Soiree
,
Soiree Home
,
Soiree wine aerator
,
wine aerator
. Bookmark the
permalink
.
← Not Sure How to Choose the Right Turkey for Thanksgiving? This guide can help!
California Beaujolais? →