← Wine Myths…Busted: Should you Complain if Wine is Served from Two Separate Bottles?
Win a Set of EssenTiles Wine Charms! →
A Guide to the Best Wine Lists in Jacksonville.
December 9, 2012
Another little thing that's been consuming some of my time…
When it comes to restaurants, food menus get all the attention and promoting their wine list always seems to be an after thought…and I'm not sure why. Maybe I'm all on my lonesome on this one, but if I'm going to a restaurant, I deem the wine list to be equally as important as the food menu.
I decided it was time for a change!
If you take a look up at the top menu on this website, you'll notice I added a new tab entitled Jacksonville Wine Lists. The dropdown menu contains all the wine lists in Jacksonville (and one or two in St. Augustine) that I deem "worthy" to be included in the list.
Within each restaurant's/wine bar's page, I've:
Given the address, contact info, and link to the UrbanSpoon page for that restaurant.
Highlighted the wine list strengths,
Added my own recommendations on which wine I would personally choose from the list (and have in fact chosen in the past) within various price points.
Attached a downloadable/printable PDF of the wine list.
Questions? I'm sure you have a few, so let me help answer two of the main ones:
Why are there only X number of wine lists on there?
That's an easy one to answer! Because that's how many restaurants/wine bars have outstanding wine lists in Jacksonville. Where there are more, I'll add more.
Why isn't the wine list from "Restaurant X" on your list?
Let me put it to you like this. There are four potential reasons why you don't see a particular restaurant's wine list on this list:
The wine list probably sucks and I don't deem it worthy (a couple of these wine lists only barely squeaked by).
I overlooked the restaurant, and if so, you need to send me an email at: kris@blogyourwine.com.
I've tried, where possible, to stay away from chain restaurants.
And last but not least and my personal favorite: The restaurant declined to give me a copy of their wine list because they have such a high opinion of themselves they think that "people will start ripping off my ideas" : Words from the Sommelier of one of these particular restaurants. That deserves a blog post in itself.
In actuality, there are wine lists from three other Jacksonville restaurants whom I'd like to add to the list, but they either declined to give me a copy or didn't answer my email.
Give it a look through, and I'd love to get your thoughts. I spent quite a bit of time working on it, so I hope you find it useful. It's definitely a work in progress and I certainly hope to add more lists in the future.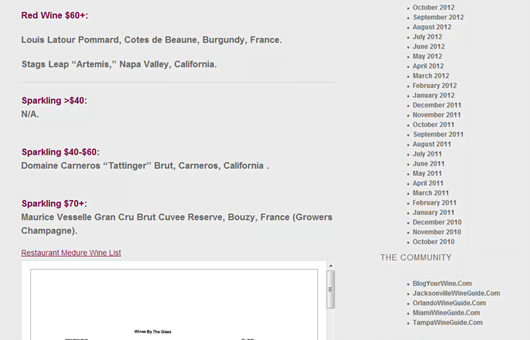 This entry was posted in
News
and tagged
95 Cordova wine list
,
Azurea wine list
,
Best wine list in Jacksonville
,
Bistro Aix wine list
,
Capital Grille wine list
,
Eleven South wine list
,
Jacksonville wine list
,
Matthew's wine list
,
Orsay wine list
,
Restaurant Medure wine list
,
Taverna wine list
,
Wine Cellr wine list
. Bookmark the
permalink
.
← Wine Myths…Busted: Should you Complain if Wine is Served from Two Separate Bottles?
Win a Set of EssenTiles Wine Charms! →