← "I Like Wine" The Latest Hit from C Money.
The Most Interesting Wine Snob in the World. →
Fess Parker Viognier, Santa Barbara, California.
February 25, 2013
Grapes
80% Viognier (VEE-ohn-yay), 13% Marsanne, 5% Grenache Blanc, 2% Roussanne
Facts
After just getting back from my time spent in Texas, and tasting a few Viogniers that the wineries had to offer, I was reminded how much I love this grape!

I've always found that Viognier has a tendency to be forgotten about by the vast amount of the wine drinking public (me included), but truth-be-told it's probably my favorite white grape…when it's made right….
Born in Texas, actor Fess Parker moved his family to Santa Barbara in the early 1960s. Fess initially decided to only plant a few acres of vines, beginning in 1989 with five acres of Riesling. After Parker's son Eli spent a few years working alongside winemaker Jed Steele, the plantings increased and the project took on a life of its own.
It's before my time….but Fess Parker is best-known for playing Davy Crockett in the Disney TV mini-series of the same name. Ol' Fess unfortunately passed away on March 18, 2010, at his home in Santa Ynez, California; and if you look closely on each of the Fess Parker wine labels, you'll see a logo of a raccoon skin hat, in homage to Parkers' early acting career.
Viognier, Marsanne, Grenache Blanc and Roussanne are all examples of white Rhone grapes (i.e. grapes planted and made into wine in the Rhone region of France); and are more-often-than-not blended together. Therefore; if you ever hear the lingo "Rhone blend," and someone is referencing a white wine, this is the type of blend they're talking about.
The nose/initial taste of Viognier can sometimes mislead people into believing the wine is going to be sweeter in nature than it actually is. A great number of producers choose to leave Viognier in contact with its skin during fermentation – and since these skins contain a certain "oily" component – Viognier can often have a viscous/oily texture.
Place (click map for larger view)
Viognier has seen a big-time increase in planted acreage in California over recent years. The grape jumped from a miniscule 25 acres (about 0.03 sq miles) in 1988, to over 2,000 acres (around 3.1 sq miles) in 2003. Most of the growth has taken place in the Central Coast region of California.
In the Rhone region of France, a great number of winemakers co-ferment Viognier and Syrah in the same fermentation tank. The technique of co-fermentation was pretty-much developed in/around the Rhone, but has since spread throughout the world. The reason Rhone winemakers use Viognier (a white grape) is to soften the Syrah (a red grape) and add a little "aromatic complexity" to the finished wine.
Most of the credit for the rise in popularity of Viognier in the U.S. should be directed towards the Rhone Rangers. This movement was spearheaded in the 80's by the likes of Randall Graham of Bonny Doon, Josh Jensen of Calera, and Joseph Phelps, who decided that California wasn't doing enough with Rhone grapes. The group laid-low during the early 90's, then came back with a vengeance a few years later. The group now has over 200 winery members from California, Washington State, and Oregon; as well as members in upcoming wine regions of Virginia, Idaho, New York and Michigan.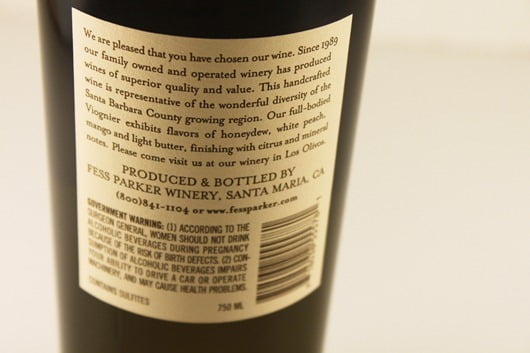 Taste
Viognier wines – when made in California – have a tendency to lack the minerally quality the wines from the Rhone seem to possess. The alcohol levels can also get a little off-balance. Fortunately, Fess Parker have got it right with this one!
Even at 14.5% alcohol, the wine remains balanced. The tell-tail peach and apricot is upfront, but isn't obnoxious. White flowers, a little lime, lychee, delicate minerality, with a touch of nutmeg and cinnamon. Way more complex than I was expecting. The best Viognier I've tasted for some time.
Pairing
I would deem this to be some very food friendly juice…just make sure to apply a careful hand with the spice if you're pairing it with Thai/Asian food. Veal, chicken with candied lemon peel, white fish, cream/butter sauces, peach/apricot sauce reductions, and lobster should all work well.
Price
$24
Available in Jacksonville from Riverside Liquors and/or Royal Palm. Call first to order/confirm stock.
This entry was posted in
Reviews
and tagged
California
,
Fess Parker
,
Fess Parker Viognier
,
Grenache Blanc
,
Marsanne
,
Roussanne
,
Santa Barbara
,
Viognier
. Bookmark the
permalink
.
← "I Like Wine" The Latest Hit from C Money.
The Most Interesting Wine Snob in the World. →