← There's a Time and Place for Everything…
Current Trends in Wine Cellar Design – Part 1 →
Ridge, Three Valleys, Sonoma
March 20, 2014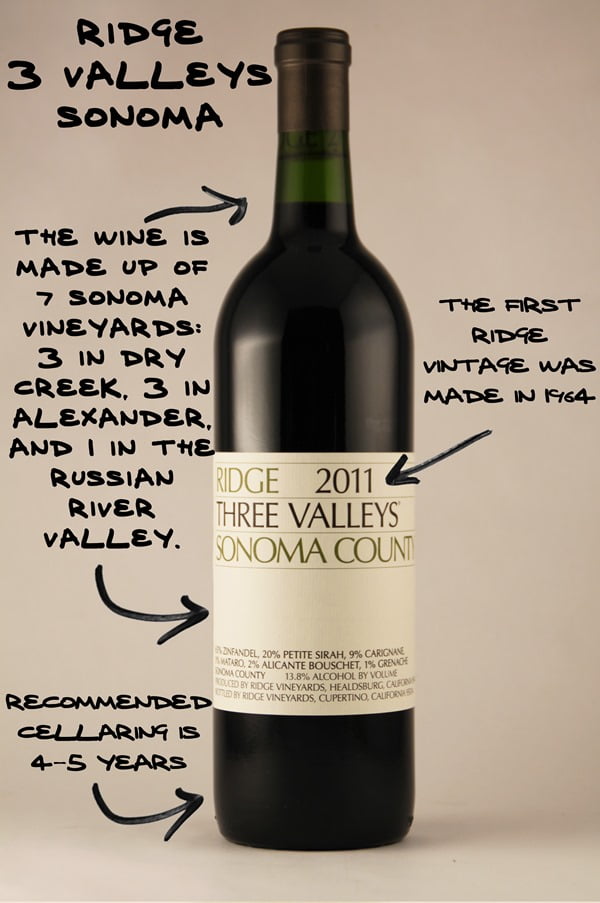 Grapes
65% Zinfandel, 20% Petite Sirah, 9% Carignane, 3% Mataro, 2% Alicante Bouchet,1% Grenache and a partridge in a pear tree.
Facts
You know what I've always admired about Ridge? It's that they manage to "do Zin" without making me feel like feeling I've just been molested by blackberries and alcohol. True story.
The Ridge 3 Valleys in the only wine blended from multiple vineyards, rather than being sourced from one specific vineyard, in this case 7 different Sonoma vineyards in the Dry Creek, Alexander and Russian River Valleys.
Arguably with this type of wine (i.e. a blend of vineyards), rather than the specific vineyard doing the talking, it's really down to the winemaker to "craft" the final taste of the wine.
In the 1976 Judgment of Paris (the first major International wine tasting where a few Yank wines beat-out some of the best from France), the Ridge Monte Bello '71 ranked 5th, right behind: Stag's Leap Wine Cellars 1973, Chateau Mouton-Rothschild 1970, Chateau Montrose 1970, and Chateau Haut-Brion respectively. Not too shabby.
Ridge – in a rather ballsy move – have now began labeling all the "ingredients" of their wines on the back label of the bottle, even though it isn't required by law. Why is this relevant? Well, unbeknownst to most consumers, winemakers do all kinds of crazy things to wine without you knowing about it. Like what, you ask? Well…such as adding additives such as Mega Red/Purple to boost the color and flavor of their wine. So on the back of Ridge bottles, don't be surprised if you find natural ingredients such as: egg whites, tartaric acid and sulfur dioxide.
Taste
Ignore mostly everything you know about high-octane Zins when you drink Ridge. They beat to their own drum. Of course, with a wine like this it's going to be a little all over the place (since it's from no specific vineyard). It's big on plums and jammy black fruit, but still managing to remain fairly medium bodied, getting a little "redder" towards the finish. Old world notes of pepper, bacon, faint spice and oak.
Pairing
Go big or go home…in terms of food, I mean. You'll need some fairly big and robust flavors to balance out pretty-much an Zin/Zin blend. I'm talking BBQ ribs, lasagna, beef stew, duck, bacon, brisket and veal.
Tasting this wine I was listening to…
Blame It On The Obvious Ways by Idlewild and In Remote Part/Scottish Fiction by Idlewild
Price
$19.99
Available in Jacksonville from Riverside Liquors and/or Royal Palm. Call first to order/confirm stock.
This entry was posted in
Reviews
and tagged
Alexander Valley
,
Dry Creek
,
Field Blend
,
Ridge
,
Russian River Valley
,
Sonoma
,
Three Valleys
,
Zinfandel
. Bookmark the
permalink
.
← There's a Time and Place for Everything…
Current Trends in Wine Cellar Design – Part 1 →