← Raats Red Jasper, Stellenbosch, South Africa
Listen to the Wine Cat. It Knows What's Up. →
Current Trends in Wine Cellar Design – Part 2
April 20, 2014
The second part of my "Current Trends in Wine Cellar Design" interview with Curtis Dahl, owner of Joseph and Curtis Wine Cellar Builders.
In the same way people have become used to entertaining in their kitchen, has the same thing started to happen with wine cellars?
The wine cellar/tasting room have become THE destination spot in the modern day home. Of course it all depends on the size of the cellar. People are obviously very passionate about the food they make, the sight, the smell etc., so it only makes sense that they want to "hang out" in the kitchen. The same thing goes for the wine cellar. People want to be around the wines they love!
Once the cellar is built, is there any logical way to organize a wine collection?
Personally, I prefer to organize my cellar so that all the wines I'm looking to drink are at the peak of their tasting period, and there's nothing I overlook or forget about. I suggest two things 1. Organize your cellar based on the region (i.e. where they come from) 2. Organize by the year it was produced.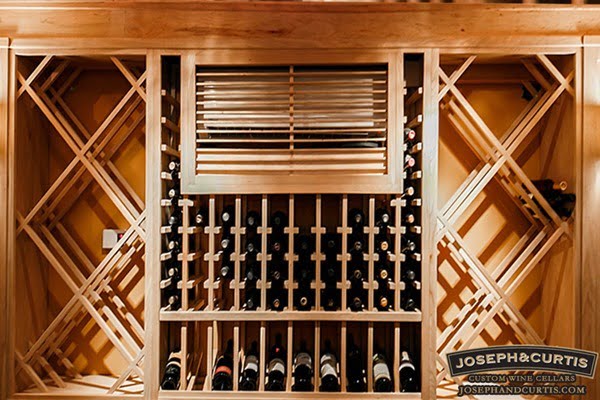 With the increase of people looking for custom wine cellars in their homes, there's no doubt been in a growth of contractors offering "cellar building" as a service. Have you noticed a growth in "cowboy" wine cellar builders?
Unfortunately, most contractors have NO IDEA on how to seal a wine room (refrigerated space) properly, or how to design a wine cellar to meet the needs of the customers personal collection. It's an area that has grown so quickly that they haven't found the time to probably do the research and just charge head-on into projects. Most contractors also have no idea that there are more than 45 different sizes of bottles, and so you can no longer build one specific sized rack to fit all bottles. If a room is not built out properly by a wine cellar professional there is a VERY strong chance you will get mold….and a lot of it!
Are there ever times when people contact you after having tried to build their own wine cellar, and you had to "step in" and fix it?
All the time! Several times people have called us to help build a wine cellar after they started by purchasing a flat-packed 'wine cellar in a box' from one of the leading on-line wine rack retailers. They then tried to assemble it themselves, only to find it extremely difficult and time consuming, and even when they got the thing built, they realized the quality to be poor.
Other times it's been cooling systems that were purchased, but burnt out, with the reason being the system that was purchased was not the right size and the vapor barrier/insulation was in-adequate.
When people think of a typical wine cellar, they no-doubt think of some type of underground cave. Are there any advantages/disadvantages between having an underground space for a cellar? Does it matter?
No, as long as the room/cave has the proper vapor barrier and insulation. It is imperative for the wine to mature properly to have a constant temp/humidity level with very little or no sunlight at all. Of course in Florida, there aren't too many options for an underground cellar, but we can pretty-much make any space work.
This entry was posted in
News
and tagged
Wine Cellar
,
wine cellar design
. Bookmark the
permalink
.
← Raats Red Jasper, Stellenbosch, South Africa
Listen to the Wine Cat. It Knows What's Up. →