Newer posts →
March 20, 2014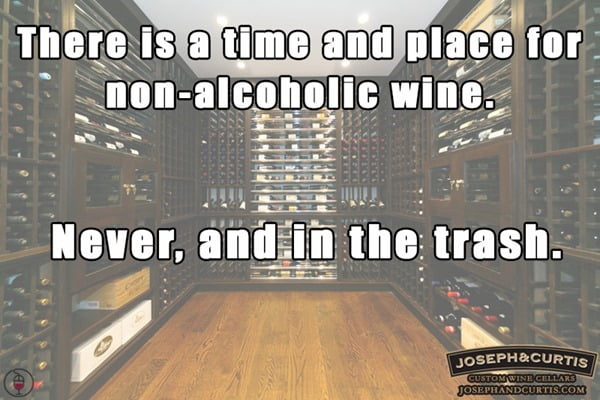 Posted in
Funny
| Tagged
Funny
,
funny wine
,
Funny wine meme
|
Leave a comment
//
---
March 17, 2014
Just another small article I was asked to write for Jacksonville Magazine's "Taste" edition…
Winter Reds
Petite Petit, Lodi, California – $14.99
If you're looking for a "little" something to warm yourself up during the colder months, there could possibly be no wine more fit for the purpose than Petite Petit. Named after its blend of Petite Sirah and Petit Verdot grapes, don't be mistaken for thinking this is a "small" wine. Since Petite Sirah is known for its high skin-to-juice ratio (the grape makes-up the majority of the blend), the wine is ultra-concentrated and jammy; with blackberry, blueberry and raspberry dominating the palate, all held together with well-integrated oak. A "big" fireside crowd-pleaser!
Borgogno Dolcetto d'Alba, Piedmont, Italy – $18.99
Located in the town of Barolo, Borgogno is well-established as one of the premier producers in the Langhe region of Piedmont. It's a little-known fact that the name Dolcetto translates to English "little sweet one." Interesting, since the wines made from the grape are certainly never sweet! Very rustic in nature, with an upfront mix of savory and earthy elements. The fruit eventually makes its way through, revealing blackberry, plum, a hint of ripe raspberry and a certain leathery and nutty quality toward the long finish.
Bernard Baudry Chinon Les Granges, Loire Valley, France – $15.99
Considered to be the most important red grape of France's Loire Valley, Cabernet Franc is believed to have been brought to the Loire from Bordeaux region. The Baudry is a beautiful example of what the Loire Valley is capable-of, even at the more affordable end of the scale. Sour cherry and ripe raspberry throughout, with a hint of blackberry in the middle and a little forest floor/dried herbs toward the finish. The Baudry would pair perfectly with "peasant French" cuisine of all types.
Cremisan "Star of Bethlehem" Red, Bethlehem, Palestine – $15.99
Almost forgotten and very-much "off the beaten path," Israel's Cremisan winery is currently being brought out of obscurity by the most unlikely of sources: Jason Bajalia, owner of Jacksonville's very own Casbah Café.
The wines are produced from vineyards in the Holy Land of Bethlehem, and made by one of the most famous wines consultants in the world: Italian winemaker Riccardo Cotarella. Initial aromas and flavors of stewed raspberry/strawberry and red cherry, quickly turns into bacon fat, tobacco and a mixture of spices.
All wines available from Riverside Liquors and Royal Palm Village Wine and Tapas.
Cremisan wines due for release in March. Jacksonville retailer TBC.
Reviews
| Tagged
Bernard Baudry Chinon
,
Borgogno Dolcetto d'Alba
,
Cremisan
,
Cremisan Star of Bethlehem
,
Cremisan winery
,
Four Graces Pinot Blanc
,
Petite Petit
,
Whitehaven Sauvignon Blanc
,
Willamette Valley Vineyards Riesling
|
Leave a comment
//
---
March 17, 2014
What
Eight of the city's top chefs (four per team) will gather to cook and compete, all to the delight of a hungry audience.
Dinners will be treated to four individual courses (eight dishes in all, two per course) prepared by the dueling teams and paired with wine. Patrons will judge each course, picking one favorite dish from the two served. Ballots from each course are then collected and tabulated, with an invited panel of judges serving as the final arbiter in the event of a tie.
Team City includes Chef Christopher Cohen from bb's, Chef Ian Lynch from Ovinte, Chef Tom Gray from Moxie Kitchen + Cocktails, Chef Steve Thurston from the Good Food Company and Bar Director Brian Brininker from Taverna. Team Beach includes Chef Patrick Moran from TPC Sawgrass, Chef Brett Smith from Vernon's at Sawgrass Marriott, Chef Joshua Agan from the Flying Iguana and Chef Danny Groshell from Ocean 60.
Where
When
Great Chefs IV will take place the evening of Thursday, March 20. Check-in opens at 6 PM, featuring passed drinks and hors d'oeuvres. Cocktail hour begins at 6:00 PM with the first course served promptly at 7 PM.
Posted in
Events
| Tagged
Great Chefs of Jacksonville
|
Leave a comment
//
---
March 4, 2014
Posted in
Funny
| Tagged
Funny
,
Funny wine meme
,
Wine meme
|
Leave a comment
//
---
February 14, 2014
Posted in
Funny
| Tagged
A Short Valentines Day Poem
,
Funny wine meme
,
Valentines Day
,
Valentines Day wine
,
Wine meme
,
wine poem
|
Leave a comment
//
---
February 11, 2014
Posted in
Funny
| Tagged
Funny wine meme
,
wine
,
Wine meme
,
yoday
|
Leave a comment
//
---
← Older posts
Newer posts →