Newer posts →
February 10, 2014
Grapes
Hamdani and Jandali – Heard of them? No, me neither before today. Hamdani and Jandali grapes are native to Palestine.
Facts
I can't lie, as much as I love drinking "off the beaten path" wines, reviewing them is a nightmare…primarily due to the lack of research available. I can't exactly blame this winery though! I mean…they're in Palestine. I was actually quite surprised they even had a website.
The other reason I'm never a big fan of reviewing obscure wine is the quality is sometimes….errrrmmm….how do you say….questionable. Fortunately, that isn't a problem with the Cremisan "Star of Bethlehem" white blend. It's the kind-of wine that puts a smile on your face after the first sip, because your expectations were so low to begin with.
The other minor problem with this review is that the wines still have minimal availability in the U.S. They only just (as-in, in the past few months) found a distributor in the U.S., who as luck would have it is based right here in Jacksonville, FL. Fear not though! I have it on firm authority that wider distribution is in the works…
Cremisan wines are produced from vineyards in the Holy Land in their winery on the cool, wooded slopes outside Bethlehem, which happen to be in the Occupied Territories of the West Bank

. Probably not the most "touristy" wine region in the world. This temperate climate translates into a beautiful, elegant and well-balanced wine, with plenty of acidity to go round.
Taste
If you were going to compare the Cremisan to anything, I would say it's somewhere between a white Bordeaux-blend and an unoaked Chardonnay. Green apple dominates the nose and the palate, with subtle apricot, peach and gooseberry. No oak. Crisp and certainly refreshing with minerals and wet stone towards the medium-long finish.
Pairing
Obviously, your first choice should be to pair with traditional Palestinian cuisine!  However; since I have no idea what that is, I would recommend pairing with salads, white fish, asparagus, green pesto and scallops.
Price
Retail is expected to be under $15.
Posted in
Reviews
| Tagged
Bethlehem
,
Cremisan
,
Cremisan winery
,
Hamdani
,
Jandali
,
Palestine
|
Leave a comment
//
---
February 9, 2014
If you've ever worked in a restaurant, you'll know EXACTLY what I'm talking about in this post. If on the other hand none of this makes any sense to you, you are part of the problem.
What the Sommelier says: "I'm sorry, Sir/Madam. We do offer a corkage fee, or may I suggest something within a particular price range?"
What the Sommelier thinks: "That's right! You run to the grocery store! Maybe when you arrive back here we can give you a brown paper bag and you can drink your wine directly from the bottle; that is, after your friends have finished whispering about how much of a cheap arse you are…"
What the Sommelier says: "Hmmm…I'm not sure Sir/Madam. I can check for you online if you wish."
What the Sommelier thinks: "If I see you in the parking lot after I finish my shift, I'm going to stab you, you pretentious-no-palate-can't-think-for-yourself prick."
What the Sommelier says: "That really depends on your own personal preference, Sir/Madam. I'm more than happy to spend some time going over previous wines you have enjoyed, and then maybe taste you on a few until we find something that will be to your liking."
What the Sommelier thinks: "You do realize you might as well ask 'How long is a piece of string?' Plus, the chances that you're going to be satisfied with whatever I personally recommend are so remote that instead I'm just going to throw out the name of the cheapest wine on the list and I GUARANTEE you'll inevitably end-up ordering it. This isn't my first rodeo, darling."
What the Sommelier says: "Well that's unfortunate Sir/Madam! Maybe we can find something else for you. A cocktail, perhaps?"
What the Sommelier thinks: "Well that's unfortunate Sir/Madam! Maybe, judging by the crazy rosacea you've got going-on, it's more to-do with the 3 bottles you inevitably slam each night after you get home from work, and less to do with any ACTUAL medically diagnosed allergic reaction!"
Funny
| Tagged
Sommelier
,
sommeliers
,
Sommeliers Hate to Hear
,
Wine meme
,
wine sommelier
,
wine waiter
|
Leave a comment
//
---
February 9, 2014

What
The Tom Coughlin Jay Fund Foundation Wine Tasting Gala is one of the Jacksonville area's most anticipated, offers attendees an evening of fine wine and gourmet fare. Over 800 supporters attend the Annual Tom Coughlin Jay Fund Wine Tasting Gala and have the chance to enjoy cuisine from the area's top restaurants and world-class wines in a walkabout format downtown. While socializing, eating and drinking guests will also enjoy bidding on auction items including sports memorabilia, rare wine and exciting trips- all to benefit local children with cancer.
Click here to purchase tickets.
Where
Wells Fargo Center, Downtown Jacksonville
When
Friday, March 21, 2014 from 6:30pm – 9:30pm
Posted in
Events
| Tagged
Jacksonville
,
Tom Coughlin Jay Fund Foundation Wine Tasting Gala
|
Leave a comment
//
---
January 8, 2014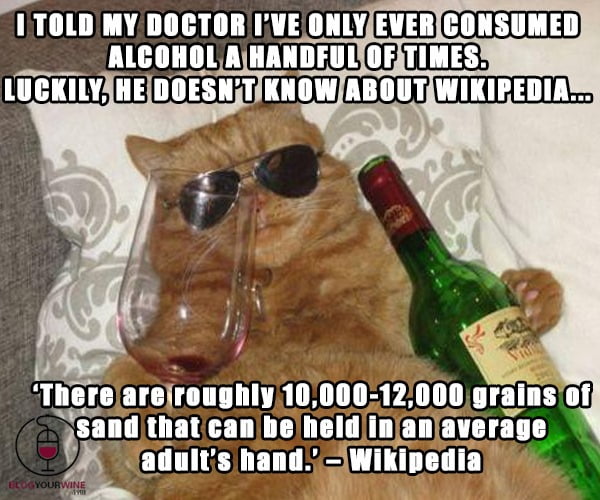 Posted in
Funny
| Tagged
Funny Wine Cat
,
Funny wine meme
,
meme
,
Wine meme
|
Leave a comment
//
---
January 4, 2014
This post is painful to write. No, it's not because I'm listening to Miley Cyrus whilst writing this. Actually, it's because I made this recipe a few weeks ago and I'm just getting-around to posting it. This procrastination conveniently coincides with my crazy idea of doing a 48 hour detox. No food or alcohol for 48 hours. (I ate 3 digestive biscuits last night, but don't tell my wife. So doesn't read this blog, so I'm safe there.)
The only thing I've been surviving on for the last 2 days is this 6-bottle "detox juice mix" sold by the sadists at Pulp in San Marco, Jacksonville. Therefore, looking at pictures of food is particularly painful right now…
Pairings
| Tagged
Gran Reserva
,
Juve de Camps Cava
,
Macabeo
,
Mexican Steak & Avocado Salsa
,
Spain
|
Leave a comment
//
---
January 4, 2014
Posted in
Funny
| Tagged
Funny wine meme
,
wine
,
Wine meme
|
Leave a comment
//
---
← Older posts
Newer posts →